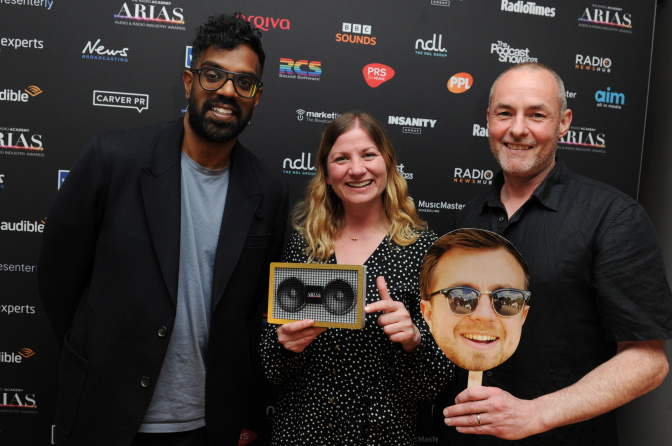 03 May 2023, Posted in:
awards
Leading indie Folded Wing scooped up two awards at last night's Radio Academy ARIAS. Romesh Ranganathan won Gold in the Best Specialist Music Show category, up against Elton John's Rocket Hour. Folded Wing's long-standing show for The British Council, Selector Radio presented by Jamz Supernova, was also nominated in the same category. "This is dream come true stuff," said Romesh. "To be recognised with an ARIA is the cherry on the icing of the vegan cake."

The judges had this to say: "This show wrapped knowledge, enthusiasm and sheer joy for this subject into a perfect package that brings you back again and again hungry for more."

The company has a longstanding commitment to nurturing talent on and off the mic, and were thrilled to see Alyx Holcombe win her first award in the Best New Presenter category for the Folded Wing production BBC Introducing… Rock.

Alyx: "Unbelievable that after only six months of the show we managed to take home bronze! So fab for rock music to get the recognition it deserves!

The ARIA successes follow last week's win at the New York Radio Awards – Romesh Ranganathan and For The Love Of Hip Hop received a Bronze Award in the Best Regularly Scheduled Music Program category.

Founder/CEO Karen P: "I started Folded Wing in 2006 and we've been winning awards consistently since then. This feels like a whole new chapter because we're now winning Gold awards for specialist shows on the UK's biggest station and at the same time bringing through new presenters who are winning their first awards. I've been on a long mission to get hip hop onto BBC Radio 2 and this is recognition of Romesh's amazing work on the show – and that of our brilliant team – and it's just the best feeling ever."