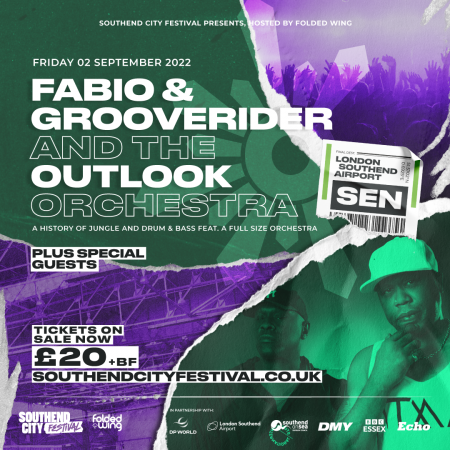 18 July 2022, Posted in:
Events
Folded Wing are very excited to announce that they are hosting the opening day of Southend City Festival across the weekend of 2-4th September 2022.
Read more
Friday 2nd September sees Fabio & Grooverider joined by The Outlook Orchestra for what promises to be a spectacular set covering the history of jungle and drum and bass.
Fabio & Grooverider, who have been pivotal in championing the scene, will be joined by the Outlook Festival's Outlook Orchestra who are notorious for presenting well known classics in a way you would not have heard before. Special guests will also be announced as the full line-up becomes available.
Following Friday's performance Damon Albarn's Africa Express will be taking to the stage on Saturday 3rd September to play a one-off headline show, their first since 2019. Africa Express, the collective of African and Western musicians crosses cultures, genres and generations offering a very different perspective on Africa, it's people and music.
Sunday sees the Music Man Project, a musical educational and performance service for those with learning disabilities, take to the stage in what promises to be a performance that will raise expectations and break boundaries.
With Southend recently being awarded City status and Folded Wing's HQ being located here, CEO and Founder of Folded Wing Karen Pearson said:
"It's an absolute dream come true for us to host this event in my hometown (now city!) 5 minutes from where I grew up and where Folded Wing is now based. If I could of seen something like this when I was growing up here it would of been everything.
I'm so excited for people to see Fabio & Grooverider in Southend with the full Outlook Orchestra. It really is a completely unforgettable experience. "
Karen Pearson, Founder and CEO Folded Wing
Tickets are on sale now: https://www.southendcityfestival.co.uk