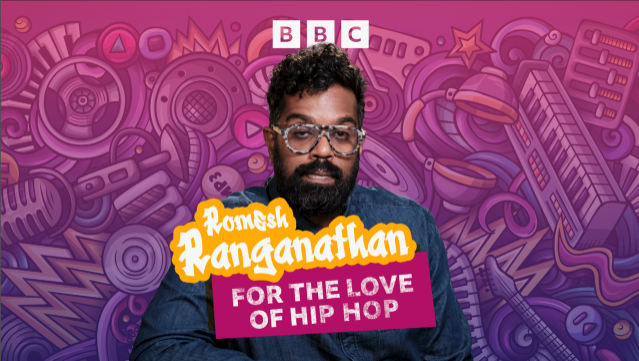 After a hugely successful first series, Romesh Ranganathan returns to BBC Sounds and Radio 2 for a second 20-part series this summer continuing his unique take on Hip Hop.
Read more
For The Love of Hip Hop produced by Folded Wing, features special guests and mixes and more of Romesh's trademark passion and humour.
"It is my honour to deliver more hip hop to the biggest radio station in the country along with BBC Sounds and convert everyone to the greatest music genre in the world. I dream a dream where your nan goes to turn the radio on and says 'I hope they drop some Wu-Tang'. Either that or people just enjoy it."
Romesh Ranganathan
The first series of the show saw an eclectic mix of guests from Sir Lenny Henry, DJ Yoda, Lupe Fiasco to fellow comedian and all-round best mate Rob Beckett join Romesh on the show to talk all things Hip Hop; how it has played a part in their lives and what their favourite tracks are and why. With an afterparty pass for those listening on Sounds, the show is aimed at bringing Romesh's favourite music to those less familiar with this genre or those wanting to discover new favourites.

Series two has already seen the Grammy award winning rapper and former Fugee, Wyclef Jean join Romesh to talk about some of his Hip Hop inspirations.
"This is literally a dream come true - to have a Hip Hop series on Radio 2! Romesh and his knowledge and passion for the genre is perfect."
Karen Pearson, CEO & Founder
Folded Wing