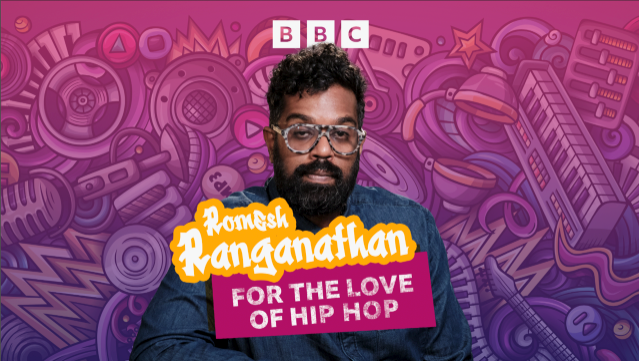 Folded Wing are delighted to annouce that they will be working alongside Romesh Ranganathan again to bring his unique take on hip-hop back to BBC Sounds and Radio 2, starting with a special 2-hour party mix on New Year's Eve - Romesh Ranganathan's Non Stop Hip Hop New Year Classics, 9-11pm on Radio 2. Off the back of that comes a 20-part weekly series 'For The Love of Hip-Hop', featuring special guests and mixes and more of Romesh's trademark passion and humour. It follows the success of his four-part Radio 2 series of the same title earlier this year.
Read more
"It is my honour to deliver more hip hop to the biggest radio station in the country along with BBC Sounds and convert everyone to the greatest music genre in the world. I dream a dream where your nan goes to turn the radio on and says 'I hope they drop some Wu-Tang'. Either that or people just enjoy it."

Romesh Ranganathan
To celebrate the launch of the show, a cut of 'Romesh Ranganathan's Non Stop Hip Hop New Year Classics' will be available on BBC Sounds this week for people wanting to get their parties started early! This is part of a bundle of mixes on offer from Radio 2 this Christmas.

The NYE show launches the 20-part series with two episodes of 'For The Love of Hip-Hop' becoming available that evening on BBC Sounds followed by a new episode dropping weekly after that, including an after party where Romesh can kick back and relax. An hour-long version of each episode will be broadcast on Radio 2 from Friday 7th January, midnight-1am (overnight Friday into Saturday).
For the Love of Hip Hop: The one with his Mum
Romesh launches his new series with a very special guest - his mum. She sheds some light on how this kid from Crawley became such a hip-hop fanatic, with a 50 Cent impression being one of the many highlights of the show. There are childhood stories, Romesh's trademark humour and a slayer playlist with a mix of classic anthems, floor fillers and under-the-radar artists.
For the Love of Hip Hop: The one with Trevor Nelson
For the second episode of his new series, Romesh is joined by legend and oracle of soul, R&B and hip-hop Trevor Nelson. They chat about why it's so important to get hip-hop embedded into the mainstream, with Trevor feeding into this week's playlist and giving Romesh a few top tips on winning over the Radio 2 listeners.
"This is literally a dream come true - to have a hip hop series on Radio 2! Romesh and his knowledge and passion for the genre is perfect."
Karen Pearson, CEO & Founder
Folded Wing
Listen here on Radio 2>
Listen here on BBC Sounds>