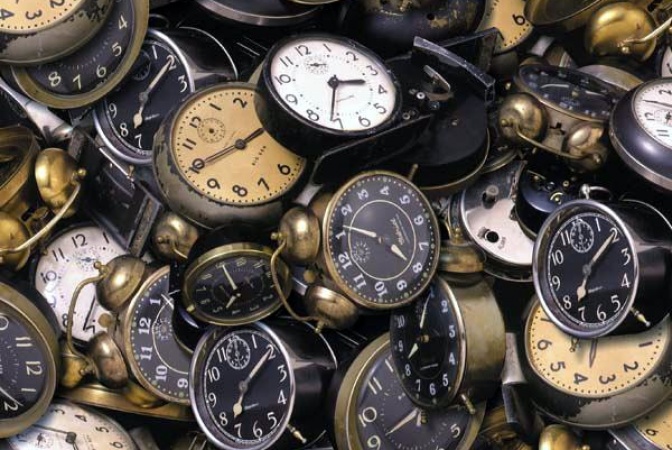 This weekend sees the clocks go back, which means one thing....... An extra hour in bed!
In celebration of the change in time, we thought for this week's blog we would share with you our favourite time related songs..... Think "If I could Turn Back Time", "Time For Heroes" or Will Smith's "Boom! Shake The Room!" of which the title of this blog comes from.
Read more
Before we get started, we might as well remind ourselves of that classic.....
Pete's Choice - Arab Strap - "The First Big Weekend"
Love this song, it was the anthem to my first proper holiday with my mates when we went to Rock Werchter in Belgium. It tells the story of 48 hours over a weekend, from talking to ex-girlfriends to watching The Simpsons, it's really funny, catchy, clever and just a great tune, this song led me to loads of their other stuff which I now love!
Andrea's Choice -  Iron Chic - "Time Keeps Slipping Into The (Cosmic) Future"
My favourite time related song at the moment (I have around one a year on average) is 'Time Keeps Slipping Into The (Cosmic) Future' by a band called Iron Chic. Scroll to around 2 minutes in and you will hear the best chorus in punk today. Saw them live earlier in the year and this song was epic...cannot wait for them to come back to the UK.
John's Choice - Pink Floyd - "Time"
Bit of an obvious one, but it's an amazing song, albeit fairly melancholic. Particularly like the intro when all the clocks ring at once. Apparently, the idea came about after engineer Alan Parsons came into the studio with recordings he'd just made in an antique shop for a quadrophonic test he was working on. Nice bit of serendipity I thought.
Sandie's Choice - Bill Haley And The Comets - "Rock Around The Clock"
This is a bit old, but my type of music. I used to jive to Bill Haley and the Comets....."Rock around the Clock". They don't make them like that any more!
Matt's Choice - Sub Focus - "Turn Back Time"
Came up on shuffle last night and is pretty much the perfect fit.
90s inspired jackin' house that also happens to be their next single.
So those are our favourite time related tracks, let us know your favourites on Twitter at @FoldedWingUK
And finally if you want something to make you laugh this weekend, this video is well worth a watch, featuring Stephen Merchant lip syncing to the song from the top of the blog "Boom! Shake The Room"