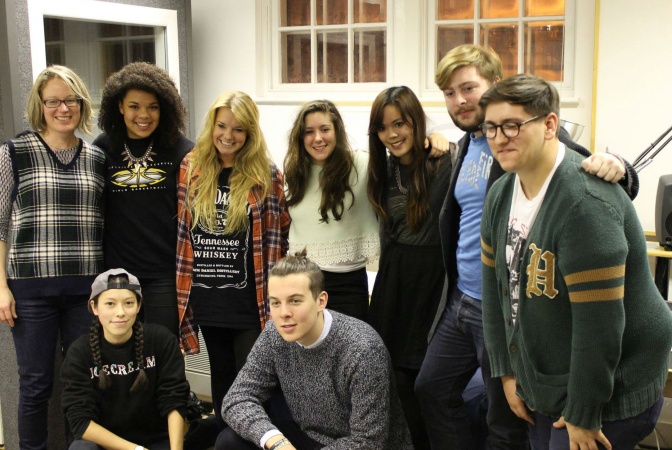 Following the success of 2014's inaugural SRA Selector initiative, this year we teamed up once again with the Student Radio Association and the British Council to run the SRA Selector for a second year in succession - providing six students with the opportunity to present their own version of The Selector on their student radio stations.


Read more
After a very competitive application process at the end of last year, we chose six student presenters from universities across the UK to be part of this year's initiative. Those chosen were:

• Ross Buchanan from Smoke Radio, University of Westminster
• Alex Light from University Radio York
• Danielle Wickham from Xpress Radio, Cardiff
• Jaguar Bingham from Leeds Student Radio
• Jack Claramunt from CSR FM, Canterbury Christchurch University
• Beverley Lung from University Radio Bath (formerly 1449AM URB)

Following a two day production and presenting training course at the Folded Wing studios in November, featuring sessions from some of our presenters, including Monki (BBC Radio 1 / 1Xtra), Goldierocks (The Selector) and Jody Gillett (Brasil Music Exchange), the six students were given access to a weekly kit version of The Selector and encouraged to get creative with the show's content over the course of the next six months.
The six month period of the students producing and presenting their own SRA Selector shows came to an end in March and each student was asked to submit their best show, along with three pieces of additional content, and a short written entry. Members of the Folded Wing team, The British Council and Ibero 90.9 FM in Mexico City (who took part in last year's initiative) have been intently listening to each of the six entries and are currently in final deliberations about who will win 2015's competition.
Last year's winner Jack Saunders won a trip to visit Ibero 90.9 FM, The Selector's sister station in Mexico City. Since winning, Jack has gone on to make his mark in the radio industry, presenting his own show on Kerrang! Radio and covering on the breakfast and mid-morning shows. This week, Jack was also given the opportunity to cover for Goldierocks on the main, globally syndicated version of The Selector, whilst Goldierocks is away on holiday.
The winner of this year's SRA Selector will be announced at the Student Radio Conference in Exeter this coming Tuesday, 21st April. Good luck to all six participants, the standard this year has been very high once again, and it's proving to be a very tough decision indeed. Thanks for all your hard work and your brilliant shows! Next week's Selector show will be recorded live from the conference, so be sure to tune in to hear from our SRA Selector students about their experience, and from this year's lucky winner!