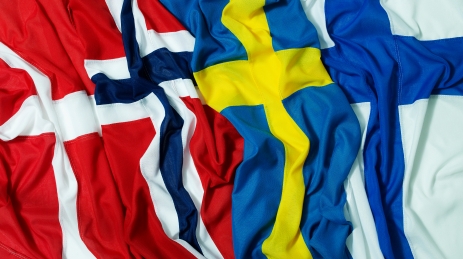 To celebrate our BBC Radio 1 documentary 'Scandinavian Invasion' going out on 23 September at 9pm, presented by Alice Levine, we thought that for this month's chart we would share with you our favourite Scandinavian exports! Share yours with us at twitter.com/foldedwinguk
Read more
Lucy's Choice - Robyn
"Wow, this was a difficult one to pick! So many of my favourite things are Scandinavian, from fashion brands to cinnamon buns, which is one of the many reasons why the doc was so fun to make. But I'm going to have to go with Robyn. She's the ultimate Scandi pop star - she's been writing huge hits for the past 15 years and has collaborated with the likes of Snoop Dogg, Diplo and Neneh Cherry. It was through her that I discovered loads of other brilliant Scandi musicians and producers, and she's now got her own record label, Konichiwa Records, which is definitely worth keeping an eye on for amazing new artists. She's not afraid of constant reinvention while at the same time always being herself. I love her!"
Jim's Choice - Fatima
"She may live in London/NYC now but Fatima is Swedish born. If you've not heard her music, you need to! She's got an incredible voice, and her debut album 'Yellow Memories' on Eglo is one of the best albums of 2014. Big up Fatima!"
Sandie's Choice - Abba

"Swedish pop group Abba are my favourite Scandanavian thing. 'Mamma Mia' is amazing!!
Best group in their day, my type of music. I have also seen the show in London."
Karen's Choice - Tove Jansson's Moomins
"I've been obsessed with them since being small, the characters, music & I think the fact they spend a lot of their time by the water. Their creator is a big inspiration for me, a truly inspirational woman and I urge you to check out this documentary."
Pete's Choice - Zlatan Ibrahimovic
"My favourite Scandinavian export has to be Zlatan Ibrahimovic, he's my favourite footballer, brilliant on the pitch and a total one-off off it. His goal against England is one of many ridicolous goals he has scored."
Andrea's Choice - Tula Hem och Tula Vall
"My Mum used to sing lots of Swedish folk songs to me when I was little and 'Tula Hem och Tula Vall' was my favourite. I love how traditional Swedish songs are often in a minor key - it adds to the sad feeling of them. This one's about a child who's so poor they only eat cabbage and have never tasted butter. Not cheery but beautiful."
John's Choice - Director Lukas Moodysson
"I've seen quite a few Scandinavian movies over the last couple of years (thanks Lovefilm) and although I've only got around to seeing a few of this guy's films, I've been really impressed. 'Together' was the first one I watched and it's the film that immediately came to mind when I thought about Scandinavian cinema. It's a low budget film set in the '70s, which follows a bunch of people who live together in a commune. It's got some really really funny moments in it and if you're a fan of Mike Leigh's films, you should definitely give this go."