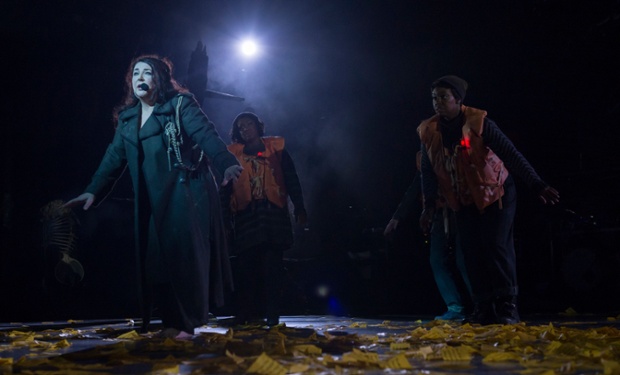 It's the comeback of the century - unless you've been living under a very large, dark rock you'll have probably gathered that after a 35 year hiatus the inimitable Kate Bush has returned to the live arena once more.
Read more
The 22 show run at Hammersmith Apollo sold out in a staggering 15 minutes and the opening night on Tuesday this week was rumoured to have been attended by the likes of David Bowie and Madonna. Kate is a truly, brilliantly unique artist and by the sounds of it this new show reflects this in a spectacular fashion.
Our #ThrowbackThursday this week was Jamie Cullum's interview with Kate from a few years ago. Appearing on his BBC Radio 2 show in 2011, she spoke to him about her album 50 Words For Snow. You can listen to it here.
To celebrate the live music event of the year, we at Folded Wing HQ have all picked our favourite Kate Bush songs. We hope you enjoy them and we'd love to hear yours too - get in touch on Twitter @FoldedWingUK.
Karen
'Snowflake' (From 50 Words For Snow)
"I love so many songs from older albums that it was hard to pick. So I'm going for something more recent.
'Snowflake' is such a beautiful opener to a stunning album. You can really hear the love between Kate & her son Albert who she duets with, it is so so touching.
It's funny to hear it in August but goes with the weather at the moment! It's a timeless album that I'll be listening to every winter and Christmas for years to come."
Jim
'Prelude' (From Aerial)
"I love Kate Bush, and have done since 'Running Up That Hill' came out in the mid 80s. That track still sounds incredible to this day. I'll never forget when I first heard it. She's a genius, a one off. Prince and Kate Bush... they're the very peak of our generation's musical geniuses! I'm am so excited to go and see her, can't quite believe it's happening. My choice is the whole of the second CD of 'Aerial'... it has very special memories for me."
Sandie
'Wuthering Heights' (From The Kick Inside)
"Kate topped the UK singles charts with 'Wuthering Heights' in 1978 aged just 19 years old. This is one of my favourite songs of all time, another song I had on repeat on my record player many years ago!!"
John
'Running Up That Hill' (From Hounds Of Love)
"So I must have been 9 years old when this came out, but it must have struck a chord as it's the first track that comes to mind when I think about Kate Bush. Just an amazingly epic song - when you analyse the way it's put together, it's quite electronic and full of fancy production tricks, but yet it still sounds really organic. Pure class."
Lucy
'Babooshka' (From Never for Ever)
I've never heard a Kate Bush track I didn't like but this is probably my favourite. It encompasses everything I love about her music - the amazing song structure and melody, beautiful production, wonderful storytelling. And the video, like all of her videos, is brilliant too."
Andrea
'Brazil' (From Brazil OST)
"I think Kate Bush's theme tune to Terry Gilliam's film Brazil has to be my favourite song of hers. The film is brilliant and the song is equally good as it just gets weirder as the track goes on."
Pete
'Hounds of Love' (From Hounds Of Love)
"I discovered Kate Bush through the Futureheads cover of this track! It's worth checking out if you get the chance. It's amazing to see how many people and different styles of music she has influenced."