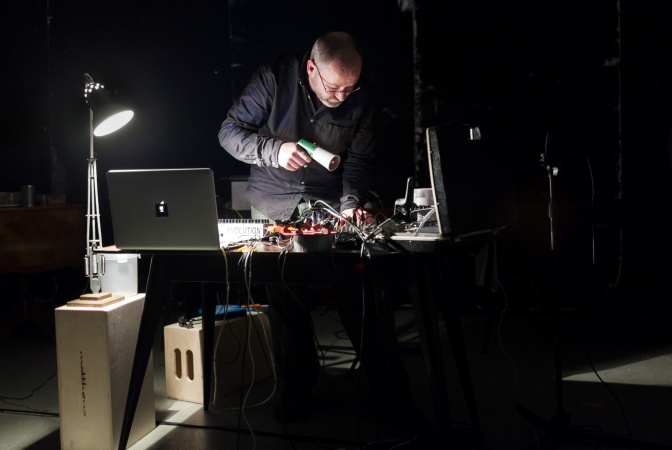 Welcome to The Listening Post, where each week we get an insight into the radio listening habits of a guest contributor. Once each person has made their picks, we ask them to nominate someone for the following week's Listening Post...
Last week, after being nominated by Anna Ramos from Radio Web MACBA (the online audio site from the Barcelona Museum of Contemporary Art), German playwright and musician Felix Kubin chose his selections. They included Mobile Radio, Sonosphere and Test Signal. You can view his full selections here.
For this week's Listening Post Felix has nominated Mark Vernon, a sound artist and radio producer based in Glasgow, who also runs the new independent radio festival, 'Radiophrenia'.
Check out Mark's selections below...
Read more
From the outlandish to the ridiculous...
1. Outsider Radio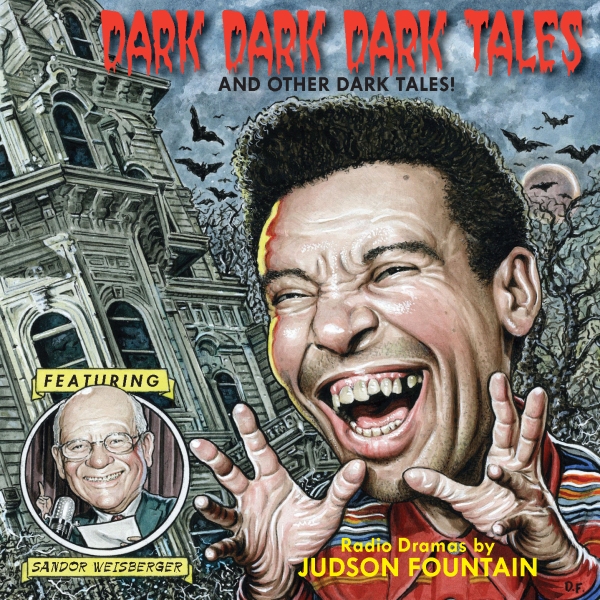 "Judson Fountain is responsible for some of the most outlandish, ridiculous and unintentionally hilarious radio ever made. Imagine amateur, low budget, pulp horror, B-movie radio plays if such a thing is possible. Often described as the Ed Wood of radio, Fountain's sincere and heartfelt 'radio drammers' hearken back to the era of classic old time radio plays - though with even more primitive production values. Creaking doors, howling wolves, thunder and lightning - occasionally you can even hear the needle drop as he cues up tracks from the worn out copy of the Elektra Sound Effects Library LP he so clearly cherished. Fountain wrote, produced and starred in almost every role - his all purpose old crone/witch voice is never forgotten once heard. Originating from a non-radio background myself I find them a charming and inspirational testament to the triumph of enthusiasm over ability".
Radio Relay...
2. Dinah Bird's Box of 78s LP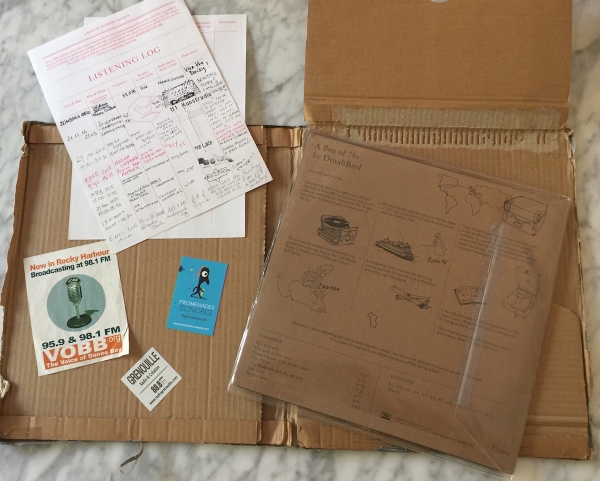 "I've been an avid follower of the audio activities of Paris based sound artist Dinah Bird for many years now. A copy of her LP 'Box of 78s' is currently on a journey around the world being passed from radio station to radio station in a sort of relay race – but slower, and without any other competitors. Each station plays the record, fills in the listening log and then posts it on to the next one. Any scratches or damage the record accrues along the way is part of the work, making each broadcast unique. It has been played on 27 stations to date (we were lucky enough to play the record on Radiophrenia back in April) and, as long as it doesn't get lost in the post, its next destination will be Tree Frog Radio on Denman Island in British Columbia."
The journey the record makes neatly mirrors the concept of the album itself:
This is the story of a box, a leather box that is over eighty years old and has lived in three different countries, and on two different continents. It contains over fifty 78 rpm recordings of classical music and opera hits of the day. The box and its contents were inherited by my grandmother who was born on the Gulf Islands, British Columbia, in 1910. She grew up on Salt Spring. She took the box with her when she left the island in 1925 and carried it to her various adult homes until her death in 2000. In September 2012 I retraced the box's long journey and took the records back to the island where they were first played.
"The compositions on the LP record skilfully knit together field recordings, readings from Dinah's Grandfather's diaries and playback of the gramophone records at the various locations her grandparents spent time in a bid to reawaken forgotten memories and stir lost sounds."
Clash of the Classics...
3. Robert Canning's 'Radio Kulturo'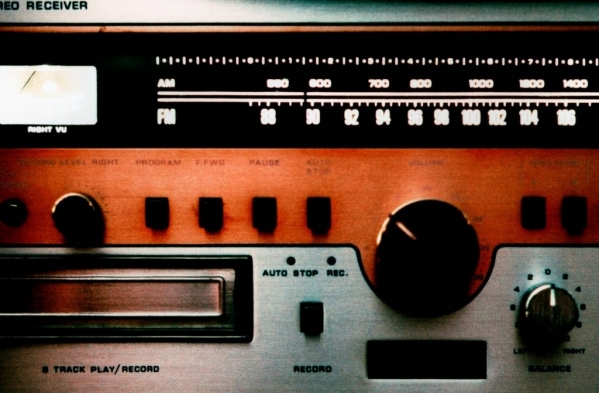 "Robert Canning's online radio work 'Radio Kulturo' ceaselessly trawls through the classical music stations of Europe 24-hours a day, 7-days a week creating an instantaneous, continuous real time mix. As well as streaming this mix you can also download a handy daily digest version if you're pushed for time. In Robert's own words, Radio Kulturo is 'an Internet based installation exploring consensus, time and simultaneity through the medium of Internet radio streams.' The output of over twenty different stations collides in a wondrous mish-mash of musical mayhem. Also – with so much culture compressed into such a brief time frame it offers a fabulous short cut to improving yourself."
>> Listen here
Radiophonic Reveries...
3. 'Dream.Like.Sound'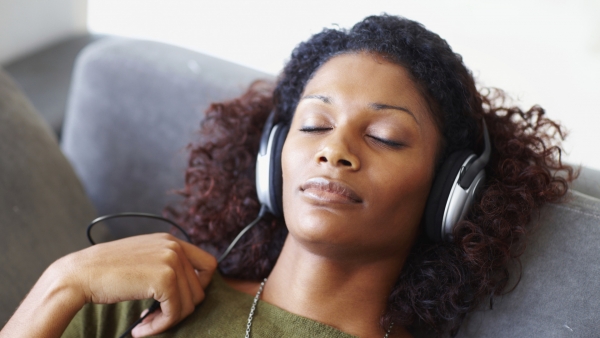 "Isabelle Stragliati is the brilliant DJ and radio producer behind the series 'Dream.Like.Sound' – each specifically themed episode is a beautiful and deftly mixed audio dérive that documents her attempts to 'un-learn doing radio shows'. She gathers sound works that inspire her, readings (in French or English) and blends them together with her own sound work, sometimes created specifically for the show. Editing and mixing the show is an intrinsic part of her creation process. As she describes it: Dream.Like.Sound is an experimental radio show series dealing with sound and radiophonic creation. It's a monthly sound reverie, a sound contemplation that goes with my research, on a chosen thematic…"
>> Listen to more here.
A Library of Radio Art...
5. 'Wave Farm'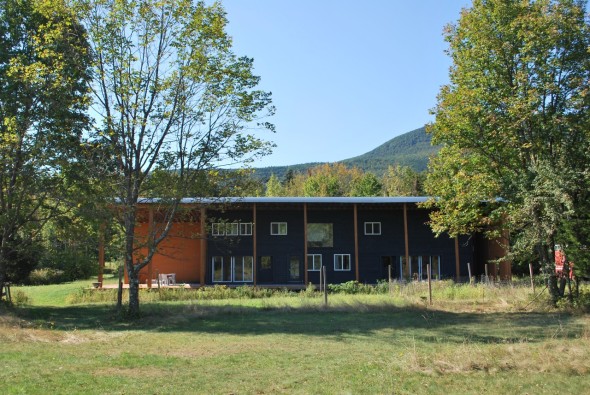 "Wave Farm is one of those amazing organisations that just makes you wonder how it came into being and how it continues to exist (but long may it do so). Their purpose built HQ in Acra, NY state houses a radio station, studios and the Wave Farm Study Centre (a library of radio art!) from which they host a series of 'transmission arts' residencies. Since 2011 they have also been running WGXC – an FM station embedded in the community that in the night time hours is almost entirely devoted to radio art and experimental sound. As if this wasn't enough their 'Transmission Arts Archive' is one of the largest online resources for radio art out there. Some choice picks are the experimental radio works of Anna Friz, performance lectures by Gregory Whitehead or the 'Sib Radio Gowanus' shows curated by Maria Papadomanolaki."
>> Listen here
Next Week's Listening Post
Mark: "The duo of 'Bird-Renoult', Parisian sound and radio artists, Dinah Bird and Jean-Philippe Renoult are an unruly force in the world of radio art. From installations that transpose the dawn chorus of Dakar into a garden in the suburbs of Berlin to an 11-hour survey of snoring (a snorescape?) their works are always tirelessly inventive, imaginative and thought provoking. With subjects as diverse as the story of early electronic synthesiser, the Ondioline (The Music Machine), brewery workers (Song of the Brewery) and an adaptation of George Perec's avant-garde guide to getting a pay rise (The Art of Asking Your Boss for a Raise) their radio productions for BBC Radio 4, Kunstradio and the RADIA network have earned them high praise indeed. I'm looking forward to hearing their choices already."
Check back next Friday for Dinah and Jean-Philippe choices...