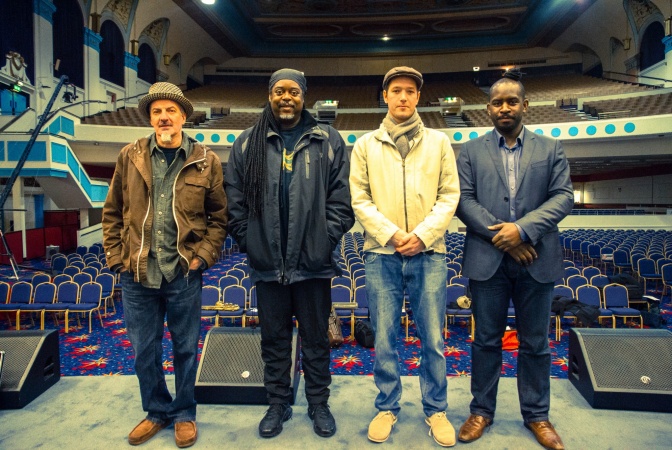 Our latest documentary for BBC Radio 4, 'A Love Supreme – 50 Years On', airs tomorrow at 11.30am! Presented by saxophonist Courtney Pine, the programme celebrates 50 years of John Coltrane's 'A Love Supreme', one of the greatest jazz albums ever made, by one of the 20th Century's finest musicians.
'A Love Supreme – 50 Years On' was produced by Jim Lister at Folded Wing so we thought we'd ask Jim to write a few words about his experience of making the programme…
Read more
I think it's fair to say that this has been a dream programme to work on! I've been a big fan of John Coltrane's music since I was 18/19, in the early 90s, when I 'borrowed' Coltrane's 'Lush Life' album from my college library. I didn't realize it at the time but 'Lush Life' is probably one of Coltrane's lesser known albums, and features mainly ballads and standards like the title track and 'Like Someone In Love' which Björk covered on her first album. I think it was the nice cover artwork that made me want to check it out, but I ended up playing it a lot; and fell in love with the purity, honesty and warmth of Coltrane's sound, which is a subject that came up many times in the making of this programme…
One of the many things that makes John Coltrane so special is his ability to invest such deep meaning and emotion into just a few notes played on the saxophone, particularly on his slower, more meditative tracks like 'Dear Lord', 'My Little Brown Book', 'Alabama' and, on the 'A Love Supreme' album, a track like 'Psalm'. Just one note from Coltrane can make you feel complete empathy with him (and the world) and what he's trying to communicate through his music.
Clip >> Nat Birchell on 'Psalm'

So anyway, back to the early 90s, after playing 'Lush Life' to death, I moved on to three of Coltrane's classic albums: 'Blue Train', 'My Favourite Things' and 'A Love Supreme'… and that's where the story ended for me for a while. At this point I took a step back and didn't listen to him again properly for many years. In hindsight I just don't think I was ready! My musical tastes had yet to develop sufficiently I guess. In the case of 'My Favourite Things' it took me another 10 years before I finally 'got it'... but my wife and I had it played at our wedding a few years ago so it was definitely worth the wait.

With 'A Love Supreme', I listened to it quite a few times after first buying it, but then also put it aside for many years. On first listen I remember being struck by how 'serious' and 'sombre' it sounded… as a 20/21 year old I probably wasn't ready for music of that depth! However over the years, I've kept returning to it, and with each listen, I always discover something new, and I understand it and connect with it a bit more. To be honest I'm not sure if I'll ever truly 'get' A Love Supreme… which is part of the album's magic I think. I've had a similar experience over the years with Van Morrison's 'Astral Weeks' album, and I think both albums share a lot of similar qualities. Both records seem to capture a magical moment in time.
Clip >> Courtney Pine talks 'Resolution'

Nowadays I often hear a new song on the radio on a Monday morning, and by the end of the week, after hearing it 3 times a day for 5 days, am sick to death of it. 'A Love Supreme' is the complete opposite. In some ways, I only truly started to appreciate it whilst making this programme. On a musical level, certainly. When we visited the incredible 4000 seat Gaumont State Theatre in Kilburn (where Coltrane played on a rare UK tour in 1961) and recorded Courtney Pine, our presenter, discussing the making of the album with 3 fellow UK sax players, Jason Yarde, Finn Peters and Nat Birchall, the conversation between the four of them was truly fascinating and enlightening. I didn't want it to end! Listening to these four incredible musicians discuss this record that's been a big part of my life for many years (and which I thought I knew pretty well) was a once-in-a lifetime experience. They went deep!
Clip >> Finn Peters 'Pursuance'

The discussion around Coltrane and drummer Elvin Jones' use of triplets (3 beats over 4) and how this connects to African music made me think about 'A Love Supreme' in a different way. As did the talk about the level of 'group interactivity' between Coltrane and his band on 'A Love Supreme'… almost to the point of telepathy. This is something that came up in many of the other interviews I did for this programme… with Archie Shepp, Evan Parker, Ashley Kahn, Chuck Nessa (and many more that we couldn't fit into a 28 mins programme!)… how each member of Coltrane's group - McCoy Tyner, Jimmy Garrison and Elvin Jones - instinctively knew exactly how best to react and support his fellow band members as they took turns improvising. Also, the importance of the 'Blues' to Coltrane's music and 'A Love Supreme', and how this connects to the purity and truth of 'Coltrane's sound'. These are just a few of the insights I've gained from making the programme that have since made me revisit the album and appreciate it on a whole other level, almost like hearing it for the first time.

I really hope people enjoy the programme and I hope it helps listeners get something new and fresh from the record too. Or even better, if it makes them check out the album for the first time.
Huge thanks to all the team at Folded Wing that worked on this with me: Micky Curling, our Studio Manager, Ian Parkinson, our Exec Producer and our CEO Karen P. It was very much a team effort. Hope you enjoy it!

'A Love Supreme – 50 Years On' is on BBC Radio 4 on Tuesday 10 February at 11.30am and will be repeated on Sunday 15 February at 1.30pm.
It will also be broadcast on BBC World Service on Wednesday, 15 April.