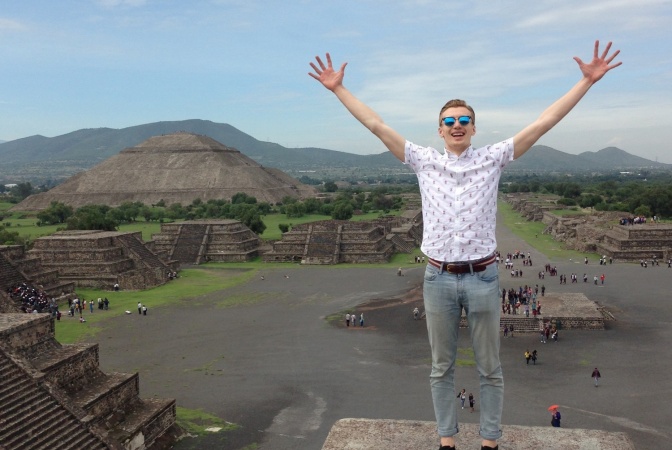 A little while ago we announced the winner of our SRA Selector competition - Jack Saunders. For those who may not know about the competition, last year Folded Wing and The Selector for the British Council partnered with the SRA (Student Radio Association) to give 6 UK student radio stations the chance to produce their own version of The Selector for 6 months; we asked each station to send in their best programme, and Jack Saunders of Fly FM at Nottingham Trent University was the winner! The amazing prize was a trip to The Selector's sister station in Mexico City, Ibero 90.9 FM, courtesy of the British Council, and after Jack got back last week we asked him to tell us all about it.
"Coming back from a country is always worse and my body is not really sure where it's at right now, but I can safely say that the whole trip was one of the best experiences of my life. It's not often you get to go to Mexico City and be taken around by a simply flawless tour guide in the form of Uri Waizel so before we even start a massive thank you to him for looking after me and giving me the full Mexico City experience.
Read more
As soon as I landed in Mexico's capital, running on nothing but adrenaline after ten and a half hours on a plane, I was straight into consuming culture mode. Hip-hop is a rising entity in Mexico City and hand in hand with that comes its dancing counterpart, breakdancing. Uri and I went to the BC One Red Bull breakdancing event, after which we went to one of Uri's favourite local Taco bars to get my first taste of Mexican food. My word was it good, but unfortunately the food over there is very sauce based and full of spices and herbs so it would prove to be my downfall four days later.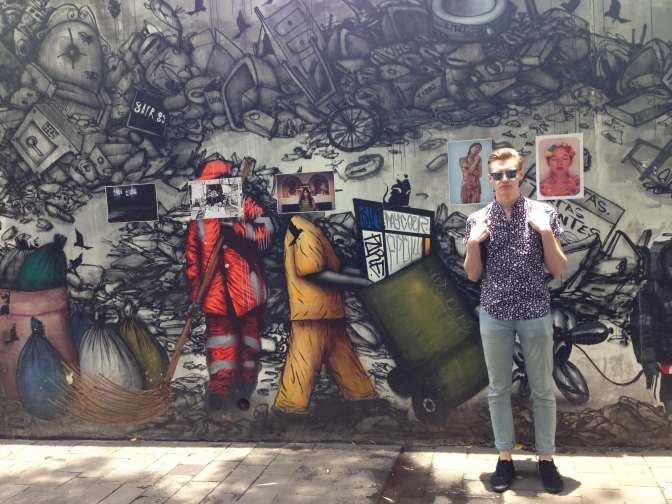 There is a lot of graffiti around the city, that's common in most cities around the world. What was different about Mexico City was that most of it was anti-establishment. People were upset with the way certain things were being managed. Waste disposal is a huge problem in the city, I mean you have to try and manage the rubbish of 22 million people so it would be. The wall I'm standing in front of depicts the sites around the country that are filling up quicker than they can be emptied.
I bought my very first vinyl: Caifanes, a Mexican rock/ska group very much like The Cure or The Clash, pioneers for Mexican rock music; and Frankie Goes To Hollywood – Relax… because it's a classic!
The main reason I was in Mexico City was not for a holiday, it was to experience Mexican culture as a student and bring that back to England to share with you. Obviously The Selector is a music show so my main aim was to concentrate on Mexican music – I decided to set about producing a documentary of the Mexican music scene and I'm going to be putting together a Selector special on Mexican music when that is done.
There is very little commercialisation of music around the city, no-one is pushing really hard, they are just taking it very slowly and trying to develop a scene that appeals outside of Latin America. It's there, it just needs to be heard and trusted. There is an electric youth culture in Mexico City, not just for music, and Mexico City is the next in-line to have its time in the light as big bands from around the world see it as their access point into Latin America.
There'll be much more in the documentary, but that is just a flavour of what to expect.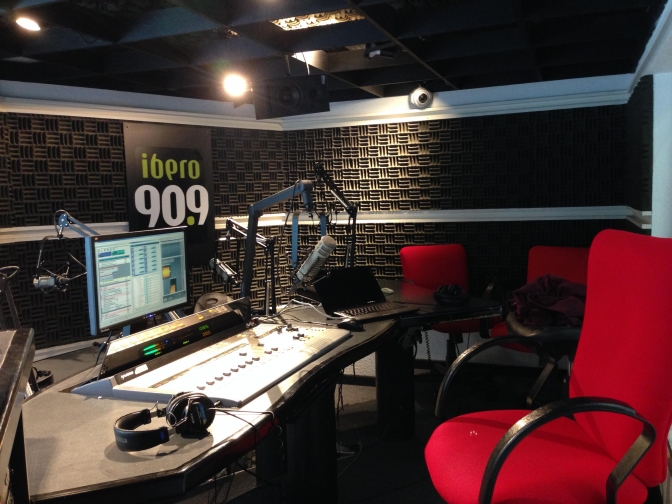 The radio station I was based at was Ibero 90.9. It is an indie station somewhere in between 6 Music and XFM. The station is incredible, it's run by the university but has fully paid staff to help maintain a high quality of output and because of that it is one of the largest radio stations in Mexico City. I got to go on air a few times and play some bands that they hadn't been introduced to yet over in Mexico (If you're a bloke and you go to Mexico, the girls love the accent!).
So you're probably thinking, "I bet all you drank was Tequila? Wheeeeeyyyy LADS"? The answer is: well, kind of, the Mexicans hate Tequila, it's been commercialised around the world and they have been stuck with the cliché of it. What they actually drink is Mezcal. It's purer than Tequila and you have it with worm salt and an orange. You have a massive shot of it but you're only meant to sip it which makes it ten times worse!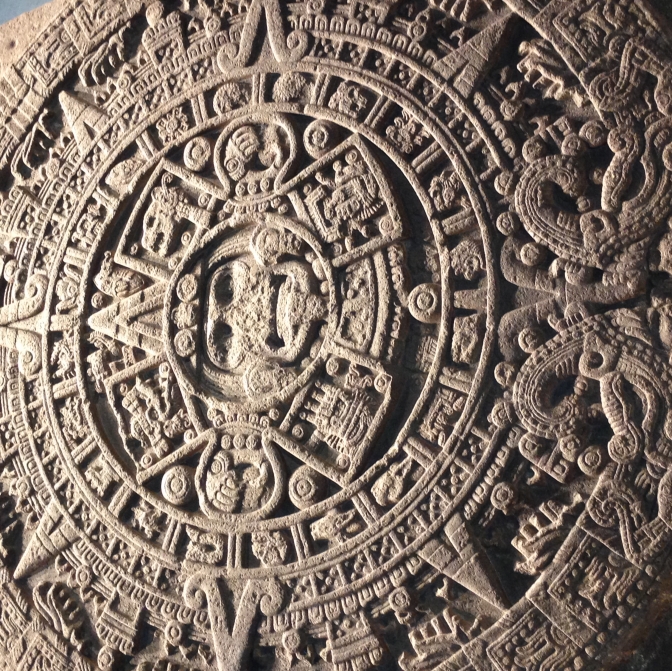 When I wasn't wincing over Mezcal, Mexico offers some amazing culture. I went to the Museo Nacional De Anthropologia and saw some incredible Aztec and Mayan history, there was no English translation so I had to make up my own version.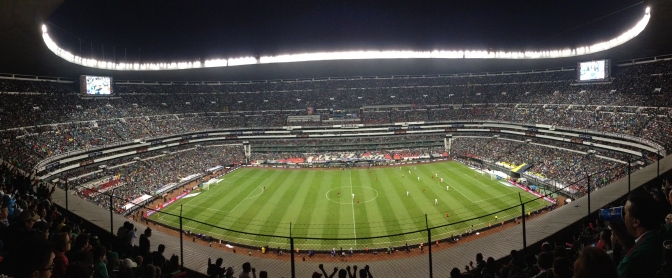 I went to watch Mexico play Israel in their first World Cup warm up match at the Estadio Azteca. It holds 120,000 people and always oversells so we had to sit between someone's legs on the concrete floor. All about the experience. The highlight for me was going to the Aztec pyramids, 40 minutes outside of Mexico City. Being on top of the pyramids was like everything stopped for 15 minutes as you looked out across the horizon (I'll stop getting all deep and emosh now).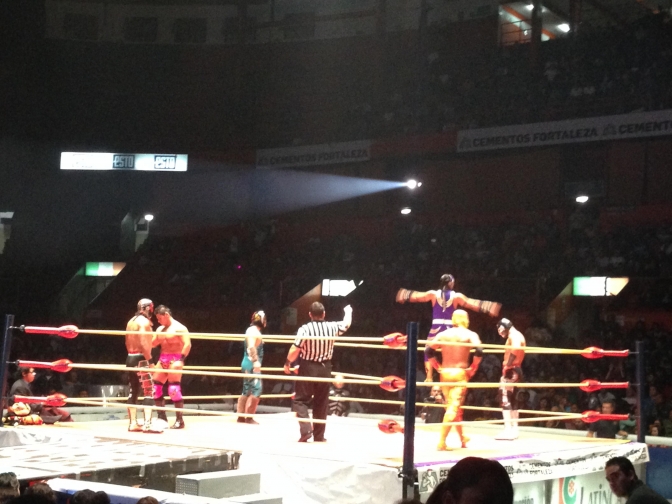 Finally Lucha Libre, the Mexican version of WWE, with masks, outrageous wrestlers, women not wearing very much and vertically challenged men in monkey and eagle suits. Nothing but absolutely mental!
I did contract a bout of 'Taco Belly' for a few days but it didn't stop me having one of the greatest experiences of my life. When I was taking part in SRA Selector I never thought, "I'm doing this just because I want to go to Mexico", I was 100% committed to and intrigued about finding out about another country's music and culture. If you're reading this and thinking about applying this year, do it. But be prepared to put 100% of your time, effort and commitment towards it because after the six months it will all be worth it.
A massive thank you to Folded Wing, Phil Catchpole and the British Council and Uri over at Ibero 90.9 – you made a big impression."
Many thanks to Jack for this brilliant post - we're all green with envy at Folded Wing HQ. We're also delighted and proud that Jack has been given his very own show on Kerrang! Radio. You can hear him every Sunday morning 10am-1pm - massive congratulations to him.
If you're interested in applying for this year's SRA Selector project, stay tuned as we'll be sharing further details about how to apply very soon.