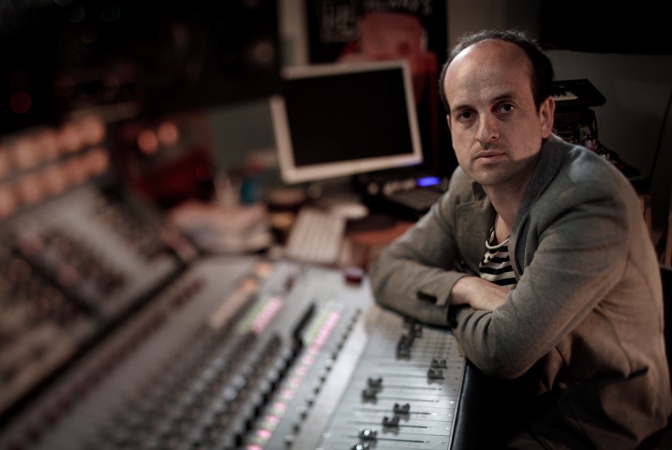 In case you missed it the first time, our recent documentary for BBC Radio 4 - The Art of the Loop, presented by Matthew Herbert, is to be repeated this coming Tuesday 12th August at 11.30am. Presented by experimental musician Matthew Herbert 'The Art of the Loop' explores the many and varied uses of loops in the production of music, both ancient and modern. As well as Rihanna and Kraftwerk 'The Art of the Loop' features loop maestro Jamie Lidell, renowned turntablist DJ Yoda, neuroscientist Daniel Glaser and Barbican music programmer Chris Sharp.
So in celebration of the fact that 'The Art of the Loop' it to be repeated we've all picked our favourite loops and samples for the blog this week. We'd love to hear yours too – get in touch on Twitter @FoldedWingUK.
Read more
Karen's Choice
The Pharcyde – 'Passin' Me By'
"I've gone with 'Passin' Me By' from the album 'Bizarre Ride II' with loops taken from Quincy Jones - 'Summer in the City' & Hendrix, plus drums from Weather Report…. wow! But it's all about the 'Summer In The City' loop. I discovered so many artists from listening to The Pharcyde and wanting to know what the samples/loops were from. Got me into jazz and a bunch of other stuff I hadn't heard before."
Micky's Choice
Simon Harris - 'Beats, Breaks & Scratches Vol. 4'
"You could argue that this one is cheating a little. After I'd discovered early British Hip Hop and was venturing in to the house music of the time I discovered that there was an album you could actually buy in the shops that featured ready-made loops. I'm sure it wasn't the first but I certainly don't think there was the range of sample and loop CDs that you can buy today. This was a few years before the legendary Zero G datafile CD which in my opinion sent sample curation in to a whole new dimension."
Jim's Choice
Prince & The Revolution - 'Purple Rain' (album version)
"Someone pointed this out to me a few years ago.... 'Purple Rain' is where Pepe Bradock got the strings loop from for his track 'Life' from 2000. I never would have guessed it was this. Simple yet effective, just like the Freddie Hubbard loop he used for 'Deep Burnt'. Big up Pepe Bradock!"
Andrea's Choice
A Tribe Called Quest - 'Description of a Fool'
"Not sure this is so much a loop as just taking the whole instrumental of Roy Ayers' 'Running Away' and rapping over it, but I love it. I always thought it sounded so fuzzy because I was listening to it on tape, but listening back to this clip I realise it's just the production on the track!"
Pete's Choice
The Verve - 'Bitter Sweet Symphony'
"It has to be 'Bitter Sweet Symphony' by The Verve. First of all it's just one of the greatest songs of all time but secondly it has a great story about loops. The Verve sampled a loop from Andrew Loog Oldham's version of The Rolling Stones' song 'The Last Time'. When they went to the Stones' management to discuss royalties they were offered 50/50..... 50 percent Mick, 50 percent Keith.... they didn't get a penny!"
Lucy's Choice
Beyoncé – 'Crazy In Love'
"I really like the idea that each new generation 'discovers' sampling for themselves – I was about 16 when I first heard 'Crazy In Love' and it was ages before I realized that that brass lick was a sample! It blew my mind the first time I heard the amazing Chi-Lites track that it samples, 'Are You My Woman (Tell Me So)' – it opened my eyes to how creative sampling in pop music, not necessarily just hip hop, can be."
John's Choice
Public Enemy - 'Rebel Without A Pause'
"Could have chosen any track from 'It Takes a Nation of Millions to Hold Us Back' as the whole album wrote the rule book in the creative use of loops and samples. What I love about this track in particular is how The Bomb Squad grabbed the intro of 'The Grunt' by the JBs, looped it across the track and created this incessant, angry kettle boiling sound, which creates this edgy, yet funky vibe across the whole track. Perfectly fits with Chuck D's lyrics. You really cant imagine the track without the loop. It just wouldn't work."
Ian's Choice
Cornershop – 'Brimful of Asha' (Norman Cook Mix)
"I know Cornershop fans hate this remix, but I remember Pete Tong playing it over and over when it first came out and loving it. Still a good party and summer record. The sample, apart from Cornershop obviously, is from The Monkees' 'Mary Mary'."