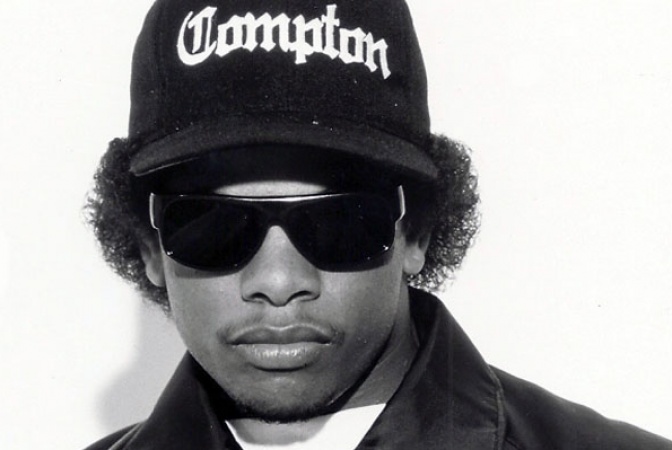 This Sunday at 9pm on BBC Radio 1Xtra, Folded Wing's fourth 'Gone Too Soon' programme will be broadcast, looking at the life and music of notorious N.W.A rapper, Eazy-E. Previous Folded Wing 'Gone Too Soon' productions include programmes on Aaliyah, Gil Scott-Heron and ODB. In this week's blog, producer Nick Taylor talks us through how he and the Folded Wing team put the show together…
Read more
"I've always been a huge lover of hip-hop and previously made a 1Xtra documentary with Folded Wing called 'When Words Collide' looking at the relationship between hip-hop and spoken word poetry; but in looking at the life of Eazy-E we were able to focus on an area of the genre that hadn't really been touched upon in our last documentary – the world of Gangsta Rap.
With 'When Words Collide' we'd started with a completely blank canvas – a subject that could go in one of a million directions. Telling the life story of an artist who sadly passed away at the young age of 31 seems relatively straight forward in comparison, but it was important to find a fresh and interesting angle to the story. After all, not only did Eazy die 18 years ago now, but his story is still relatively untold here in the UK, so this was an opportunity to introduce a new generation of 1Xtra listeners to the man commonly referred to as the 'Godfather of Gangsta Rap'.
It was clear that this was a great time to rediscover Eazy's story. This year marks the 25th anniversary of not only Eazy's debut solo album 'Eazy-Duz-It', but also N.W.A's classic 'Straight Outta Compton' (home to F*** Tha Police, Express Yourself, Dopeman and many more), which gave us a good opportunity to not only tell Eazy's story, but also reassess the legacy of one of hip-hop's most controversial and powerful albums.
We were lucky enough to get Radio 1 & 1Xtra's Charlie Sloth on board to present the programme, and as a lifelong N.W.A fan Charlie's story of hearing 'Straight Outta Compton' for the first time at the age of 8 kicks off the documentary. Charlie goes on to explain how the album changed his life forever.
Importantly we also wanted to look at the impact Eazy made here in the UK. I spoke to Mystro, Foreign Beggars and up-and-coming artists like Stig of the Dump, all of whom were influenced immensely by Eazy and have gone on to make music that mixes the ruthless honesty and playfulness that made Eazy's music so appealing.
The real joy of creating a programme like this over a number of months are the different directions it can take at any time. For example we noticed that M1 from the group Dead Prez was performing in London, and just 24 hours later there I was sitting with one of the most outspoken rappers of recent years. When summing up Eazy's legacy he fed us a killer line which we instantly knew would be the perfect way to close the whole documentary.
However there were two particularly big breakthroughs during the making of this programme that proved invaluable. The first was speaking to former N.W.A members Arabian Prince and DJ Yella, who both spoke extremely candidly about working with Eazy and the state of hip-hop in the 1980s. This gave us the basis for Eazy's narrative, as well as some great anecdotes about what Eazy was like on tour, and the production of the Eazy-E hologram that toured the US earlier this year. We also spoke to Eazy's son, himself a rapper under the name 'Lil Eazy'. Although he was only 10 years old when his father died, his obvious passion for keeping Eazy's legacy alive lead to a fascinating chat.
The second breakthrough came when we spoke to two journalists – British writer Hattie Collins and Davey D, an outspoken hip-hop journalist from California. Both Hattie and Davey spoke to us at length not just about Eazy's legacy but also the wider issues surrounding his music.
It was vital to not just tell Eazy's life story, but also to explore some of the wider issues further, including the social context behind N.W.A's more violent or shocking lyrics, and the effect of Eazy's AIDS-related death on the hip-hop community. We also spoke to James Hamlin from the brilliant WhoSampled.com who talked about how N.W.A revolutionised the use of samples in hip-hop music.
It became clear that Eazy's legacy was not as obvious as we had originally thought. Although he brought out some groundbreaking and powerful music, Eazy was far from just a rapper.
In fact Eazy was a business man first and foremost, and therefore a precursor to the likes of Jay Z and P. Diddy – groundbreaking artists who represented a less squeaky-clean version of the American Dream, rising from humble backgrounds and turning hip-hop into a multi-million dollar business. We wanted then to establish whether people thought Eazy's ultimate legacy was as an artist or as the first hip-hop entrepreneur? Everyone we spoke to, from DJ Yella, to Dead Prez, U-God and Zane Lowe agreed that his role in bringing together N.W.A probably overshadowed Eazy's actual musical output.
We hope then that the documentary not only gives listeners an insight in to the life of one of hip-hop's most influential figures who had a huge influence on today's generation of young UK rappers, but also a good look at a group who in just five years changed hip-hop forever."
'Gone Too Soon: The Story Of Eazy-E' goes out on BBC Radio 1Xtra on Sunday 3rd November at 9pm, you can find out more here - http://www.bbc.co.uk/programmes/b03ffh21