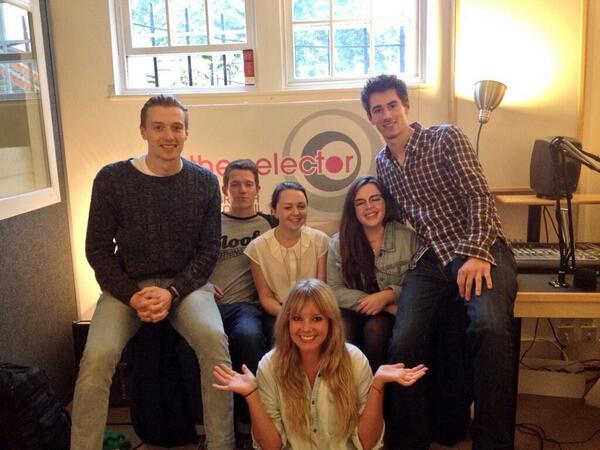 Monday was a very exciting day at Folded Wing. This week the lucky student radio presenters that have been selected to host an SRA version of The Selector on their own student radio stations came to the Folded Wing studios in London for a day of presenting and production training from the Folded Wing team.
In the blog this week we thought we would share with you what happened from the day and introduce you to our six SRA Selector presenters!
Read more
Throughout the day the students took part in a number of sessions that will help them present and produce The Selector when they take it back to their stations.
The day started with a session on how The Selector works within the music industry, presented by Selector producer John Cranmer and Folded Wing executive producer Ian Parkinson, the group discussed how you gather music, arrange interviews and sessions and who to contact; they then discussed how to structure a show, build a playlist and write scripts. Then Folded Wing Production Assistant Pete Linney gave a really exciting talk on all the paperwork involved in making the show!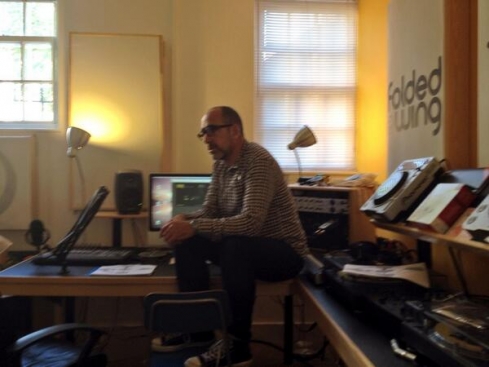 Next Ian gave a session on how to be a successful music presenter, talking about the rules that music presenters should follow and how to connect with listeners. Ian then followed that up with a session on interview techniques, giving tips on how to get the best out of an interviewee and what to do if things don't go well.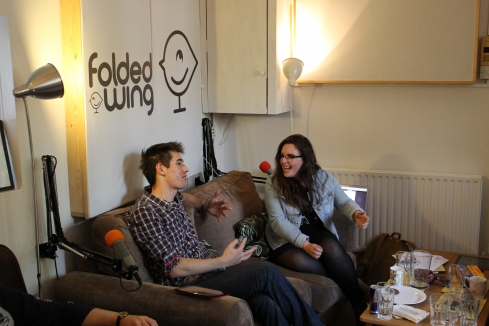 After a well-deserved lunch break the students were treated to a session on jingles and sounds from Micky Curling, Micky talked the presenters through the principles of sound design and the group recorded some drops and started to make a jingle together, which Micky finished off and played to them later in the day.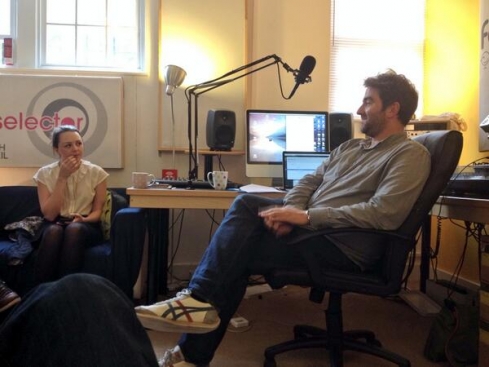 Next up we had a nice little treat for the students as we invited Scrimshire in to record a session for them. As Scrimshire performed, John showed the presenters how to set up and record a live performance and also showed them ways in which it could be done without lots of expensive equipment. A huge thank you to Scrimshire for coming down to help us out!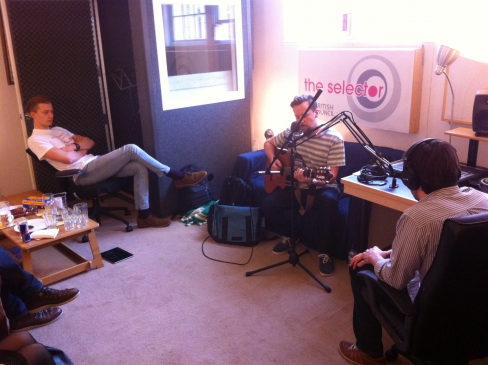 After a session from Ian on press and marketing and an introduction to the British Council from Senior Press Officer Alex Bratt, it was time for our aspiring presenters to meet Selector presenter Goldierocks. Goldierocks spoke to the students about how she got into radio, how she goes about choosing music and tips on how to communicate with an audience, the students then turned the tables and asked the questions they were desperate to know from Goldierocks.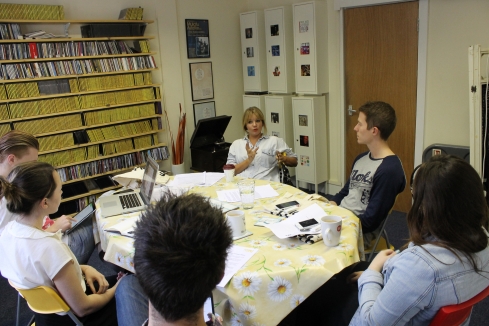 After an exciting but busy day the students were treated to a well-deserved burger, followed by a trip to the pub for a few drinks and a chance to chat to everyone. A big thanks to everyone involved and thanks to the students for being so nice to have around.
Now it's time for you to meet our lucky six student presenters. Plus they have provided a few quotes on how they found the Selector training day.
First up!
Jack Saunders
University: Nottingham Trent University
Course: Broadcast Journalism
SRA Station: Fly FM
Thoughts on the day: The training was a great insight into The Selector, the impact on its global audience and how the show is researched and produced. The day offered a real insight into how a production company works in comparison to a radio station.
Best bit: I loved it all! Learning the various different elements of the show got me thinking creatively about how I can do something new with The Selector that hasn't been done before. I really enjoyed learning about how to record a session in a simple and affordable way.
Top tip you took away: When presenting, visualise your listener or audience so you know who you're talking to. This will make you more relaxed as a presenter and therefore more natural.
Why you are looking forward to doing the show: I'm looking forward to being the source of people's new kick. Loads of people are desperate to know what the next thing is before their mates and it's pretty cool that I'm going to be the platform for people to do that!
When will it be broadcast: Wednesday 5-7pm on www.flyfm.co.uk
Hazel Morgan
University: University of Exeter
Course: History BA
SRA Station: Xpression FM
Thoughts on the day: The training day was absolutely fantastic! It was a really fun day, and also so useful as I was given so much amazing advice and tips. To spend the day with so many professionals, who were such experienced broadcasters, was invaluable. I felt so lucky to be able to pick the brains of such experts! After the training day I am so excited to start the show and put all the skills I picked up on Monday to good use.
Best Bit: The best part of the training day for me was the Interview Techniques Session with Ian Parkinson.
Top tip you took away: My top tips from the session on interviewing - Never ask closed questions, always do your research, don't be afraid to re-ask a question, watch your body language and always make sure you ask a question instead of making a statement.
Why you are looking forward to doing the show: I can't wait to start the show so I can share some of Exeter's music scene with The Selector. I'm also looking forward to seeing what the other SRA presenter's do with their shows so I can hopefully find out more about new music in their local area.
Michael Walmsley
University: The University of Sheffield
Course: Business Management
SRA Station: Forge Radio
Thoughts on the day: It felt as if I took a Broadcasting degree and all the workshops and guests were all crammed into one day; an astonishingly insightful experience.
Best Bit: Talking to Ian Parkinson about 1Xtra
Top tip you took away: Use Reaper to edit
Why you are looking forward to doing the show: I love new music and the Sheffield scene, so can't wait to combine these to produce something special.
When will it be broadcast: Fridays 6-8 on forgetoday.com/radio
Lauren Rosewarne
University: University of Warwick
Course: BSc Psychology
SRA Station: RaW 1251AM
Thoughts on the day: AMAZING, tons of useful advice and tips on lots of areas of radio production, very insightful stuff. I loved the studio and offices, very cosy and colourful and a plentiful supply of biscuits!
Best Bit: Meeting the team, of course! They're all lovely and very clever people. I did enjoy going in the sound booth that The Selector is recorded in to record our own voices; that was pretty cool. Although Mickey and the others will tell you what an absolute wuss I was…
Top tip you took away: For interviews, make sure you ACTUALLY listen to what the other person is saying- sounds silly, but it's a valid point. And don't be afraid to ask the same or a similar question more than once if you want a clearer or better answer from your guest.
Why you are looking forward to doing the show: The concept of The Selector is great, I love it, so I'm very much looking forward to discovering new, British music and sharing this with RaW's listeners. Hopefully I'll be getting some local, under-the-radar artists in for some sessions, which I always find exciting. I can't wait to start honing my presenter skills and putting into practice the things I've learnt at Folded Wing. :)
When will it be broadcast: Thursday evenings from 8pm, starting Thursday 17th October. You can listen from here: http://www.radio.warwick.ac.uk/ (hint, hint)
Louis Chadwick
University: University of Salford
Course: BA (Hons) Television & Radio
SRA Station: Shock Radio
Thoughts on the day: Absolutely awesome - brilliant to pick the brains of the best in the business and spark more excitement for the show. 
Best Bit: The hands-on nature of it - being within a few feet of Producers working on edits and live session recordings and having the chance to ask questions on the go. 
Top tip you took away: That it's actually a huge form of arrogance NOT to introduce yourself, the station and the show.
Why you are looking forward to doing the show: I can't wait to get out of the studio and talking to Manchester's finest local and touring bands, showcasing the best the UK has to offer and including the audience in the discoveries. 
When will it be broadcast: Wednesdays 10pm-midnight on www.shockradio.co.uk

Lloyd Bent

(Unfortunately due to Uni commitments Lloyd was unable to make the training day)
Age: 20
University: University of Durham
Course: English Literature
SRA Station: Purple Radio
Why you are looking forward to doing the show: Introducing people to the wealth of new bands constantly emerging on independent record labels, along with discovering many new bands myself via the production and sourcing of music for my show.
When will it be broadcast: Thursday 7-9om on www.purpleradio.co.uk/
So those are our presenters, make sure you tune in to their shows when you can and let us know what you think of them on Twitter at @FoldedWingUK!