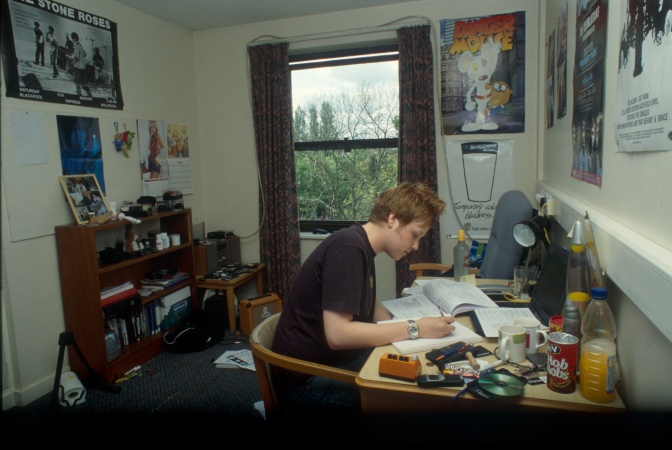 This coming Monday the lucky winners of our Selector on Student Radio partnership are coming to the Folded Wing studios for a day of production and presenter training from the Folded Wing team.
In honour of the training day we decided that in this week's blog we would reminisce on our fondest memories from our own days of being a student and share the biggest tunes from our Uni days too!
Read more
John
Student Memory: When I was in my final year, the guys doing the TV side of our media studies degree put on some kind of show. My memory of those times are hazy at best, but I think they were trying to do something a bit like TFI Friday, which was popular at the time. Unfortunately, it played out more like the cringiest parts of The Word. For starters, someone decided to book Adam Ant to perform. He was terrible. In true car crash TV style, things went from bad to worse and the final straw came when a certain musical fellow, so appalled by the show and Adam Ant's singing, decided to lob a can of beer at the stage. Pretty sure that wrapped things up pretty swiftly, as Mr Ant promptly stormed off in a huff. To be fair, if he'd played Prince Charming rather than doing new material, everyone would have loved him, but that's fickle students for you. There was always a fair bit of animosity between those doing TV and those, like myself doing radio, so we all found it utterly hilarious. That might have been a bit mean spirited in retrospect.
Biggest Track: To be fair, my Uni had a tendency to be a bit cynical and bitchy, so I spent more time clubbing in London than hanging out at the uni bar. This tune from my housey housey days in '96 was a favourite. And it was also one I could get away with playing at the uni bar without a moany fashion student heckling me to play Abba or Spice Girls.......Oh yeah and the guy who threw the beer - he appeared in The Voice and did rather well. Seemed that the TV audience liked his style. Not sure what that says? Maybe it's post-modern? I always glazed over during those lectures.
Jim
Student Memory: "In my first year at college we had to make a 15 mins documentary film... and my group did ours on the free party/illegal rave 'movement'. This was 1993 so around the time of Spiral Tribe parties and a year before the Criminal Justice Bill so definitely relevant. We decided to go and film a rave in Dalston... and this was when Dalston was still pretty rough round the edges. Anyway, the party was a lot more moody than we expected... and a lot less peace and love vibes... with some of the most horrible nosebleed techno I'd ever heard, and some pretty unfriendly, scary people who didn't want a bunch of students hanging round with camera equipment. We spent most of the night worrying about all the cameras we'd borrowed from college.. and hoping we weren't gonna get mugged!"
Biggest Track:  Original Rockers - 'Push Push' - "The first Original Rockers album got played in our student house all the time...and this track was always big at the parties we had."
Pete
Student Memory: Freshers week will always be a great memory but considering I had to go home ill for two weeks afterwards perhaps it wasn't the best start to my University life! I think one of the most surreal moments at University was having two Police officers sat in my front room watching Nottingham Forest in the FA Cup with us.
We had just had a party for my birthday and the following morning we heard a loud knock at the door announcing it was the police, we were all pretty shocked/terrified/confused, thinking it was because of the previous night. As they came up we were all bricking it about what we could possibly of done, desperately trying to recall what had happened the previous night. Luckily it turned out that they were investigating a incident further down the road and we all breathed a massive sigh of relief, then one officer asked us to check the Forest score, as we switched on the TV the game was about 10 minutes in, one officer then announced "We've only got 20 minutes left of the shift, do you mind if we sit and watch the rest of the match here", with them being police officers we weren't really sure how to say no! Suffice to say the next 70 odd minutes was some of the most uncomfortable I have had watching a football match!
Biggest Track: Me and my housemate could never agree on music, however there was one song we both agreed was one of the greatest of all time! We both loved it and it was on pretty much every pre-drinks playlist throughout uni, it was 10CC - Dreadlock Holiday.
Andrea
Biggest Memory:  I joined the Newcastle University Surf club in second year for the grand sum of £20, solely for the benefit of getting a free trip to Newquay with a load of friends. Minor detail was the University Surf Competition at the other end. One of us hurriedly took a test to get the mini van license and we duly left Newcastle at midnight to drive down to Cornwall. We arrived exhausted at 9am and had to get straight into wet suits and into the sea for round one of the competition. Bearing in mind it was March and I could barely bodyboard, let alone surf, this was bound to end in tears. Us girls were first in and the waves were truly massive. Terrible times in the sea ensued with hundreds of people laughing from the shoreline as we got continuously wiped out. Even worse was the fact it started snowing. I somehow got through to the second round (mainly because I don't think the judges could see what was girl and what was board in the mess we called surfing). Needless to say I stayed in the van for round 2, never to surf in British waters again.
Biggest Track: Justice vs Simian - We Are Your Friends - It came out when we were all getting ready to leave in 3rd year and seemed to sum up the friendships we'd made over the last 3 years.
Matt
Student Memory: During Freshers Week I signed up to so many societies that I had to change my email address due to the amount of emails I received from the likes of the canoeing society about their canoeing sessions which took place in the gym swimming pool!
One of my funniest memories was going along to a taster snowboarding session (probably the 'coolist' sports society I signed up to). It turns out that I am in fact one of the worst snowboarders in the world and looked far, far from cool.
Whilst at the top of the hill waiting to take my turn, I started to move on down the hill... in a bid to stop myself I grabbed onto the girl next me and in turn caused her to start sliding down the hill with me, but instead of her heading in my direction, she in fact ended up crossing the red fence, entering into the tobogganing section of the slopes and continuing in an out of control manner before eventually being taken out of movement by falling over a said toboggan.
After two hours of just about staying out of the tobogganing area myself, I decided that would be the end of my snowboarding career.
Biggest Track - Edward Sharpe & The Magnetic Zeros - 'Home', a song that my housemates discovered after coming back from Camp America and subsequently played it so many times that we all eventually fell in love of it to the point where we know the amazing 'musical conversation' part of it down to a tee.
So those are our student memories, share yours with us on Twitter at @FoldedWingUK