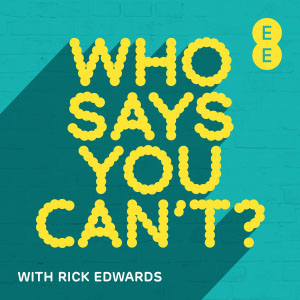 We're excited to announce the launch of 'Who Says You Can't' - the podcast with EE, hosted by Rick Edwards, which looks at those who defied the norm and achieved great things for themselves and those around them.
You can check out the podcast here: http://hyperurl.co/0tm5ua
Read more
Episode 1:
In the first episode, Rick chats to the rapper Professor Green about his mental health, and how he works to subvert the stigma. They discuss things to do that can help when you're feeling low, as well as how he got from battle rapping to fighting to get men to talk about their feelings.
Episode 2:
Next up, Rick sits down with MIguel Barcley, who has left his previous job to teach those who need it to make delicious, healthy meals for £1 or less. He had no previous chef or restuarant experience, but just enjoys a challenge.
Episode 3:
Dily Price is nicknamed Daredevil Dilys, and in this episode you can hear how to started skydiving slightly later in life than you usually would expect, and became the oldest skydiver in the world. She also dedicates time to her charity which helps disabled people to get moving, a completely motivational person in every aspect!
Episode 4:
In the final episode of this series, Rick chats to Arjun Bhogal about walking to Wales to New South Wales... in Australia! He came across innumerous obstacles on his journey, from ISIS to being arrested, but never gave up on his adventure.