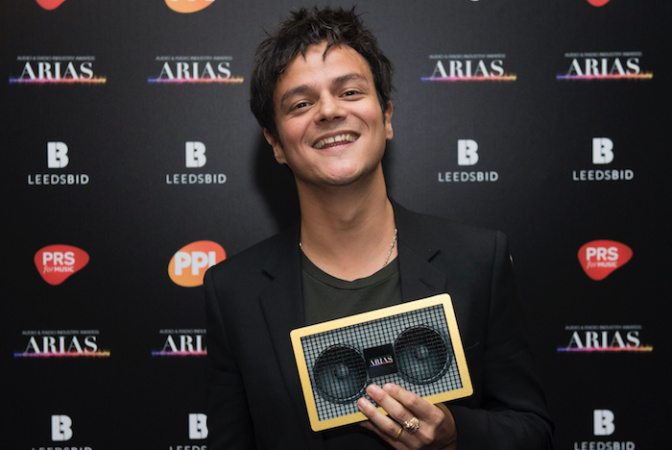 Completely over the moon to hear about Jamie Cullum winning Gold for Best Music Presenter at last night's Audio & Radio Industry Awards (ARIAS) for his BBC Radio 2 show! He was amongst great company as also up for the award were Clara Amfo (BBC Radio 1), Edith Bowman and Trevor Nelson (BBC Radio 2), Dave Berry and Andy Bush (Absolute Radio).
The ARIAS are about recognising the talented individuals and teams in the UK audio and radio sector, who excel at their craft and produce the very best body of work in the world, and in presenting the award the judging panel said of Jamie's show - "Stylish, slick, beautifully crafted and sincere. The scope of his musical knowledge enables insightful interviews with his guests. His performances and collaborations with his guests yield even more talent. The most deserved winner in years."
Read more
On receiving the award, Jamie said: "This started out 8 years ago as a fun adventure that I had no idea would bring me here. It was listening to John Peel, Trevor Nelson, Gilles Peterson, Humphrey Littleton, Marc and Lard and Tim Westwood that fuelled my love for music and set me on the road for a career as a musician. I've always believed in the power of a knowledgeable and passionate curator."
He goes on to say "In my own music career I've always felt like an evangelist for music and musicians. It's a gift to be able to communicate that passion on the brilliant Radio 2" and thanked the "thriving British Jazz scene that is firing this show up to another level" alongside thank yous to all his team and family, "Thank you to Bob Shennan for unwavering belief. Lewis, Helen and Al for giving me the freedom to present a show that mixes John Coltrane with A Tribe Called Quest, Nina Simone alongside Can, Madlib, Fats Waller and Sons of Kemet.
A special thanks went out to our CEO Karen and the rest of the team, "Thank you to my producer Karen Pearson at Folded Wing who developed me from the start and didn't for one second believe that just because I was a musician it meant I would be able to present a radio show. We did nearly a year of dry runs before I was allowed near a live fader! She is the epicentre of this show with me and a true legend in my humble opinion. Thanks to Ian Parkinson for his calm and rigorous expertise! Micky the tech lord! Marc Connor for convincing me to do this in the first place! Ella, Jenny and lastly my wife Sophie for coping with the sheer amount of jazz she has to endure at our kitchen table on a daily basis."
Jamie's show is broadcast every Tuesday from 8-9pm on BBC Radio 2 and has 720,000+ weekly listeners and a record reach and share for the slot. Jamie's program is also syndicated to stations across the world in USA, Canada, Japan, Switzerland, Germany, France and South East Asia.
Karen Pearson, producer of Jamie's radio show and CEO of Folded Wing, said: "This award is testament to Jamie's passion, warmth and dedication to radio and the whole team at Folded Wing. Thank you to BBC Radio 2 for all of their support from day one and for letting us make a jazz show that we really wanted to make."
Said Helen Thomas, Head of Content Commissioning BBC Radio 2, "It's wonderful to see Jamie Cullum pick up the ARIA Award for Best Music Presenter tonight. He's a natural communicator, who conveys his knowledge and enthusiasm for Jazz music with easy wit, warmth and energy. His show lights up Radio 2 every Tuesday evening. Well done Jamie!"
During his time on the program Jamie has helped artists such as Gregory Porter and Madeleine Peyroux reach the A-list on BBC Radio 2, bringing 'specialist' jazz to a weekly audience of some eight million listeners.
Coming up on the show over the next couple of months we will be having an interview, session and duet between Jamie and Jeff Goldblum, Kiefer will be in session, and an interview with Harry Connick Jnr.!