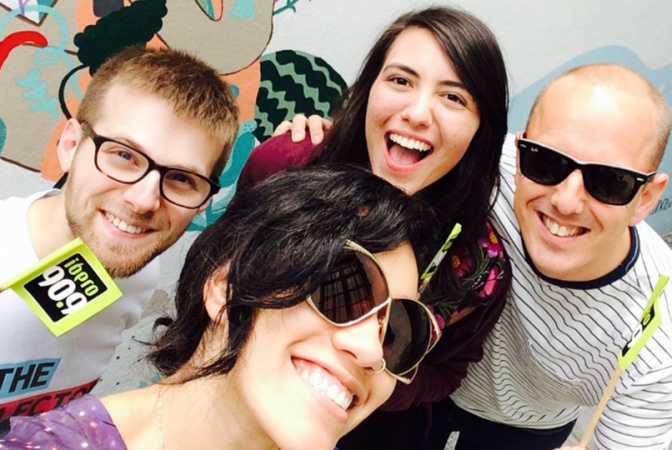 Folded Wing are very pleased to announce that for the fourth year running, we are teaming up with the Student Radio Association (SRA), and the British Council, to run the SRA Selector initiative. This is an opportunity for six fantastic UK students to present their own version of The Selector on their student radio station, with the winner spending 10 days at The Selector's sister radio station Ibero 90.9 in Mexico City next summer.
You can read all about our previous winner Andy Backhouse's experience over in Mexico here.
As part of the initiative, six student presenters from six student radio stations around the UK will be given the opportunity to produce and present their own version of The Selector from January 2017 - April 2017.
Two of our previous winners of the initiative - Jack Saunders of Fly FM at Nottingham Trent University and Ross Buchanan of Smoke Radio at Westminster University – both now have their own shows on Radio X, alongside the likes of Chris Moyles and Johnny Vaughan, so this is a fantastic opportunity for those looking to achieve their goal of working in the radio industry.
Each of the six chosen students will:
Be given a special kit version of The Selector containing all the individual parts of the show (songs, jingles, sessions, interviews, plus a script). This will enable them to produce and present their own bespoke version of The Selector for their student radio station, being as creative as they wish with all the fantastic Selector content
Receive an in-depth 2 day radio production and presenting training session at Folded Wing
Have the opportunity to become a regular content provider for The Selector
So if you're thinking of applying, what are you waiting for?!
>> To apply to be one of this year's six SRA Selector presenters, download the application form here.
Please return the completed form to: [email protected] Multiple individuals can apply from the same student station but only one person per station can be selected. The deadline for entering is Monday 7th November at 9am.
If successful, you must be available to come to visit us here at Folded Wing for 2 days of training in November / early December.
The six chosen presenters will be announced at the Student Radio Awards at the O2 in London on Thursday 10th November 2016.
On behalf of everyone at Folded Wing, the British Council and the Student Radio Association, we wish you the very best of luck!