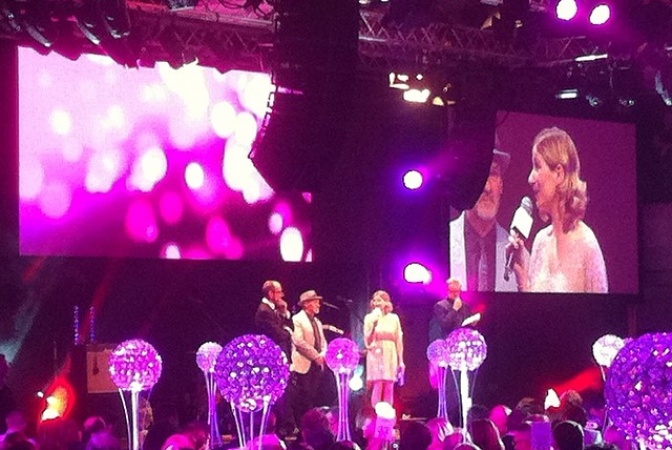 What a week it's been for Folded Wing and Jamie Cullum on BBC Radio 2! On Monday the Radio Academy Awards took place – it's one of the most important events in the radio industry's calendar and, especially as Jamie Cullum had been nominated in the Best Music Programme category, Folded Wing wouldn't have missed it for the world.
And we were completely delighted that Jamie won the Gold award! Here's the amazing moment when the announcement was made, and Folded Wing's CEO Karen P went up to accept the award:
Jamie, unfortunately, couldn't attend the ceremony as he's currently on a family holiday, but Karen and Ian Parkinson from Folded Wing were there to collect the award. Here they are with singer Paul Carrack, who presented the award to them.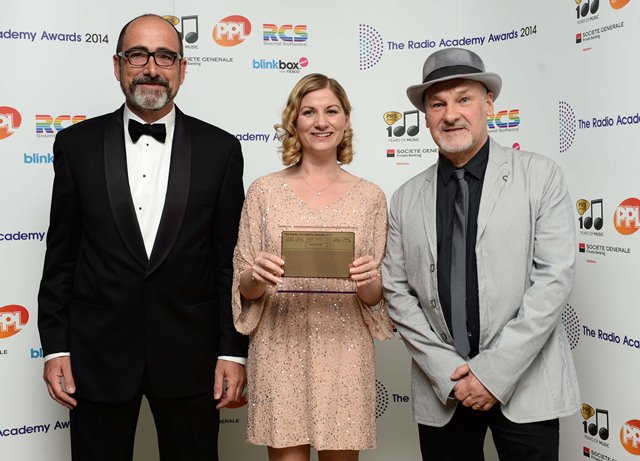 We're so proud and delighted that Jamie won – thank you so much to the Radio Academy for an amazing night, and congratulations to all the other winners and nominees, it was an honour to be nominated alongside so much amazing radio talent. You can see the full list of winners here. Here's what the judges said about the show: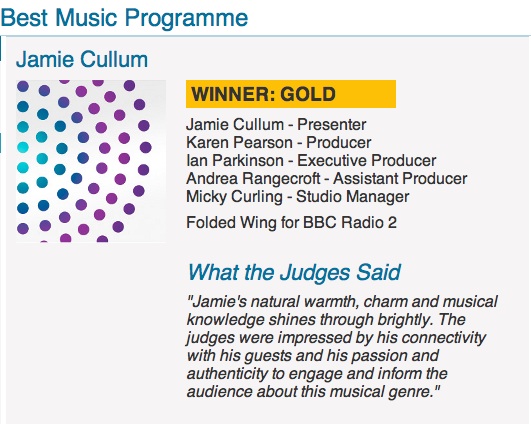 And here's Jamie's reaction to winning the award:
"I am so thrilled to receive this award four years into my journey as a broadcaster. It's a role I took on with trepidation after Humphrey Lyttelton passed away that now feels like the beating heart of my career in music. I have been completely and utterly brought to this point by the incredible Karen Pearson of Folded Wing, whose attention to detail, knowledge, passion and dedication deserves to be celebrated equally, without question. She is an extraordinary woman whom I feel honored to work with. I also want to thank Ian Parkinson, Andrea Rangecroft and Micky Curling who bring a wealth of experience, fun, love and logistical genius to the show every week. My manager Marc Connor, who, against my protestations, convinced me to do the show in the first place and has been believing in me for over 10 years. Also major thanks to Al Booth and Bob Shennan at Radio 2 who have given us the freedom to make the show we want to make. And all my supporters at the BBC - Chris Evans, Simon Mayo, Russell Davies, Lewis Carnie (R2 Head of Programmes), Jeff Smith (Radio 2 Head of Music) and many more. Finally, a thank you to my beautiful wife Sophie - my partner in everything, who quietly has the most excellent music taste in the land but doesn't need to show off about it like her husband."
We're very excited to display this lovely award in our office trophy cabinet.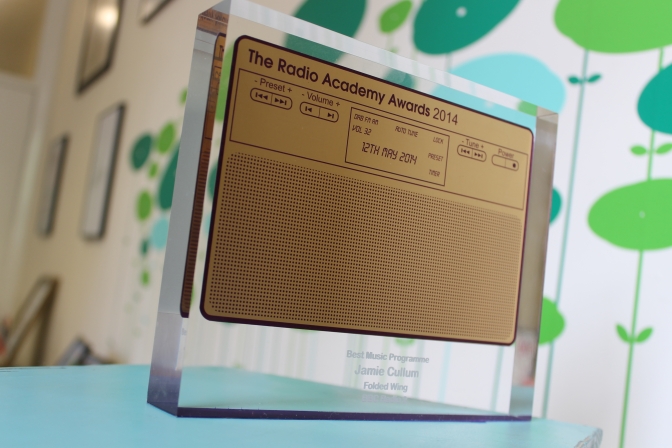 If that wasn't exciting enough, the following evening was the Parliamentary Jazz Awards ceremony. Held in the House of Commons, the Parliamentary Jazz Awards is organised by the All Party Parliamentary Jazz Appreciation Group (APPJAG), and supported by PPL in conjunction with Jazz Services, JazzUK, Jazzwise, and the Jazz Section of the Musicians' Union.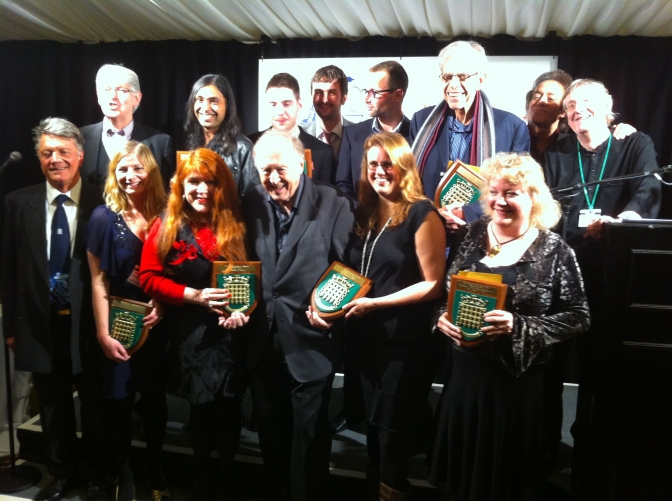 And we were over the moon that Jamie Cullum on BBC Radio 2 won the Jazz Media Award! It was the only radio show nominated in the category, so we're honoured to receive such an award from the jazz community. Karen collected the award, and received congratulations from none other than Darius Brubeck, son of the legendary Dave Brubeck.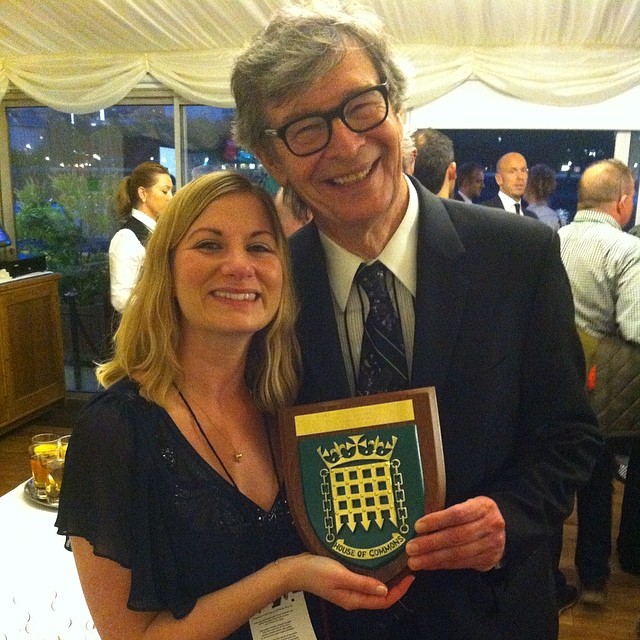 Here's a close-up of the award itself – we love the signature House of Commons portcullis!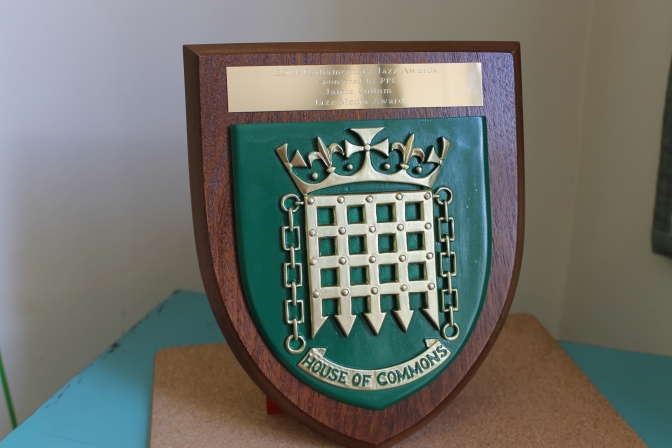 And, as if two awards in two days wasn't enough excitement in the Folded Wing office, we've just found out that Jamie Cullum on BBC Radio 2 is a finalist in two categories in the New York Festivals Radio Awards, for 'Best Regularly Scheduled Music Program' and 'Best Jazz Format'!
It's wonderful to be nominated and it's great to be alongside so many other UK finalists.
The winners will be announced in New York on 23rd June – see a full shortlist here