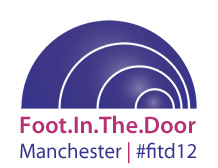 12 October 2012, Posted in:
Events
Our very own Karen P will once again be one of the industry insiders at the Foot In The Door event at this year's Radio Festival in Salford.
The Masterclass acts just like speed-dating - ten tables packed with industry professionals sit ready to give advice on how to get your foot in the door and make a mark on the industry. Delegates get 15 minutes at each table before the klaxon sounds and they have to move on.
Karen will be on a table called 'Who Chooses The Music?' together with Bauer's Trevor Jordan.
Last year's Masterclass was the highlight of the festival for many radio hopefuls and new careers are even known to have been launched through the connections made at the event!
It all takes place at The Lowry at Salford Quays on Wednesday 14th November. Tickets are £24 (+VAT) for Radio Academy members and £48 (+VAT) for non-members.
So, if you want to work in radio, make sure you find out more and get a ticket from the Radio Academy's website.