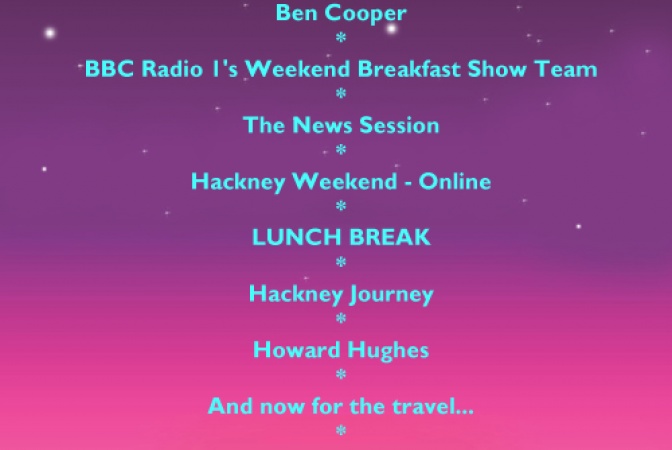 It is a very rare thing to be in the right place at the right time. I know this because when you're trying to get into the radio industry, as I am, the right place and the right time so rarely coincide, no matter how many times people tell you they should.
But in June, it finally happened. The right place was Folded Wing, an independent production company in London who were kind enough to take me on for two weeks' work experience. The right time was when I had been there almost a week, researching, editing and learning. Caroline from the Radio Academy called the Folded Wing office looking for a young presenter. My ears tingled but I kept my eyes on my screen.
Then,
"Ever done any presenting Aisling?"
I had. Lots. Folded Wing's Jim sat me down and talked me through the job - I was to host the Radio Academy's 'Getting Into Radio' session as part of BBC Radio 1 and 1Xtra's Hackney Academy. I would introduce the day and each of the speakers. Jim sounded confident in me and I knew I could do it.
The next day I arrived in Hackney, rattling with the nerves of knowing that I would soon be introducing Ben Cooper, Radio 1's controller and the man everyone wants to work for, to a group of people I would usually be sitting amongst.
My voice and my fingers shook through my introduction, but I took deep breaths, remembered Ben's name and from then on the links got easier and I relaxed into what was a great day of advice and knowledge delivered by some of the industry's most successful people. Howard Hughes talked about the lucky breaks that made him a star, we heard how Radio 1's Hackney weekend came into being, and Andrea Day proved to everyone that travel news is far from dull.
It was a chance for me to meet professionals in a professional capacity, and that is invaluable experience. I was able to practice my public speaking, something that does not come easily to anyone (does it?!) and best of all, hear all the talks and take on all the advice.
If it hadn't been for Folded Wing, I would never have had the opportunity to even go to the event, let alone host it. Everyone was right, there is something special when the right place and time come together. I just wish Ben Cooper had been a little further down the bill!