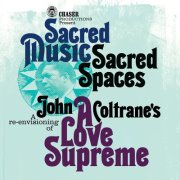 06 June 2012, Posted in:
Events

Check out this exciting event taking place on Summer Solstice, 21st June 2012!
Almost 50 years have elapsed since 'A Love Supreme' was written and recorded and the spiritual concerns that characterise the composing and playing of John Coltrane remain as relevant today as they did then. 'A Love Supreme' is a devotional statement – a suite of deeply spiritual music in four parts that has since become one the most revered recordings of the 20th Century. Aligned to the summer solstice Sacred Music-Sacred Spaces presents a bold re-envisioning of this iconic work that will be performed in the warm,spiritually charged setting of The Chapel in Kings College. By embracing instrumentation from different cultures and spiritual traditions Rowland Sutherland's arrangements locate this music in a global setting whilst reflecting on life in our own inner cities. Only by taking on the spiritual intensity and the emotional range of 'A Love Supreme' can we re-affirm an all-embracing vision which transcends the religious and secular divides devastating our world today. Sacred Music - Sacred Spaces will mirror the wise words of John Coltrane and invites you to experience "Elation, Elegance, Exaltation".
Check the Facebook and website for more info.