This Monday marks the occasion of one of the most important events in the radio industry's calendar: The Radio Academy Awards! It's an extra special one at Folded Wing HQ as Jamie Cullum on BBC Radio 2 has been nominated in the category of Best Music Programme. A Radio Academy Award is widely regarded as one of the highest accolades in the business and the awards ceremony is attended by everyone who's anyone on the airwaves.
We're delighted that Jamie has been nominated, and thought we'd take the opportunity on the blog this week to celebrate some of our favourite radio of the past year. The Folded Wing team have all picked their favourite radio moments, and we'd love to hear yours too. Let us know on Twitter @FoldedWingUK what really stood out for you on the radio in the past 12 months.
Pete's Choice
The Day We Won Wimbledon (BBC 5 Live)
"If I had to pick one single thing from last year it would be 'The Day We Won Wimbledon'. I think this is probably one of the best radio documentaries I've ever heard. It's quite a simple concept for a piece of radio, but it was done to perfection and getting John Hurt to narrate it was inspired. The whole programme relived that final in a way that left me pretty close to tears; it not only tells you Andy's story, but that of the fans on Murray Mountain, those watching at home and some of his friends and family whose stories you hear for the first time. I'm so happy to see it nominated for two Radio Academy Awards. You can still listen to it as a podcast - click below."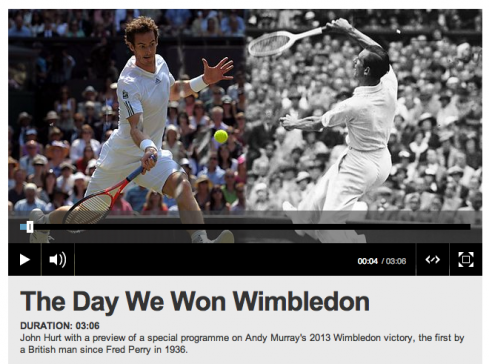 Sandie's Choice
Kim Wilde (Magic 105.4)
"I love Kim Wilde on Magic 105.4! I've really enjoyed her Sunday request show over this past year - it's such a great selection of music and she's a brilliant presenter."
Karen's Choice
The Art of the Loop (BBC Radio 4)
"It's so hard to pick something, but I'm going to pick one of our own shows! I don't usually do this but 'The Art of Loop' was one of my favourite documentaries we have made. Being able to get a doc on Radio 4 at 10.30am on that subject presented by one of my favourite producers was a dream come true. It came about from a conversation on e-mail where we spoke about ideas we would love love to make, this was my dream idea! We submitted it thinking it was a long shot but yes, it was commissioned!
The team recorded Matthew in his own studio demonstrating how he makes music – a pretty amazing insight into his work. The whole company came together to make it happen and Micky Curling brought it to life with his amazing sound and production skills. It features loads of music made from loops - there's even a sneaky clip of the Amen Break, one of the most famous loops of all time, as well as Rihanna, which is pretty unexpected for Radio 4!
Lots of people who would not usually listen to Radio 4 tuned in to hear it; that was the best bit! We had posts on XLR8R and Resident Advisor about it, and a massive reaction on social media too.
If you click below you can still listen to a clip of Matthew showing how he produced a piece of music by looping a Radio 4 Continuity Announcer's voice - amazing!"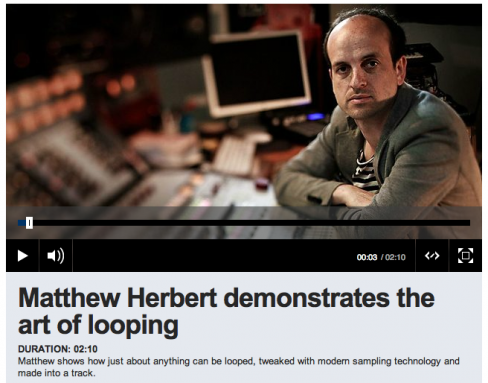 Lucy's Choice
Short Cuts (BBC Radio 4)
"I absolutely love the Radio 4 series Short Cuts, half hour programmes of short radio stories and mini documentaries around a theme, presented by Josie Long. 'Resistance', which aired last October, was one of my favourite ever episodes - the ending features incredibly haunting audio of protesters singing in perfect harmony at a dangerous and violent demonstration. It's actually still available to listen; click the image below."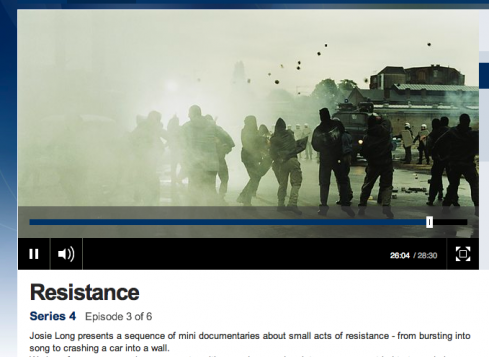 Jim's Choice
Iggy Pop (BBC 6 Music)
"Iggy first appeared on 6 Music over Christmas of last year with a couple of vey special one off shows. Definitely the best thing I'd heard on the radio in a long time. I was really happy when 6 announced his regular Sunday show earlier this year. His voice is amazing, the definition of 'world weary', and his stories and the way he delivers them are so warm and heartfelt. He's not shy to give his honest opinion on the modern world and his love of the music he plays really comes across. One story in particular that really touched me was when he talked about waiting in an airport once on his own after a bad gig somewhere, feeling down and alone... and then this song came on in the airport lounge, something that he really didn't expect to hear, and it blew him away. You can't help but love him. Iggy is THE TRUTH!
When Iggy's lifelong friend and drummer with The Stooges, Scott Asheton, passed away recently, Iggy started his show by reading some poetry for Scott and then played Augustus Pablo's 'Drums To The King'. It was a lovely tribute."