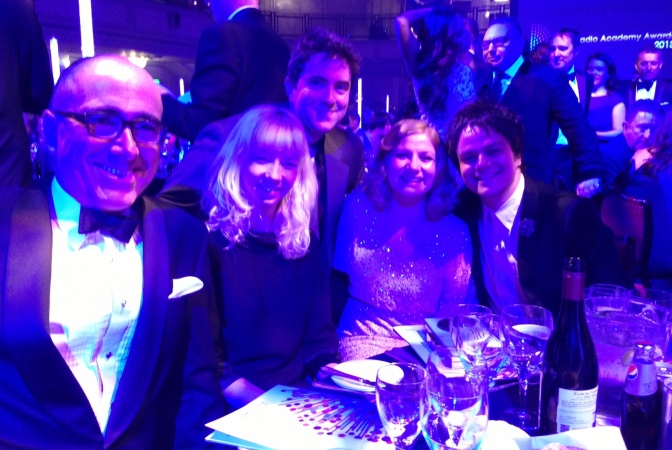 Monday night was an exciting night for Folded Wing and the rest of the radio industry, it was of course the 2013 Sony Radio Academy Awards.
Folded Wing were delighted to be nominated in the "Music Radio Broadcaster Of The Year" category for Jamie Cullum on BBC Radio 2.
Jamie and the Folded Wing team all headed down to the Grosvenor House Hotel for the awards, suitably dressed up for the night! Jamie also played at the event and caused a bit of a stir on the red carpet when he decided to turn the tables on the press!
Here's the photo from Jamie's view
The first half saw a performance from Robbie Williams and the first awards. Radio 1's Dan and Phil walked away winners of this years first ever "Sony Golden Headphones Awards". Danny Baker took an award for "Best Entertainment Programme" for his weekend show on 5 Live,  only a few months after leaving his BBC London slot! John Humphrys collected an award for Radio Journalism Of The Year for his interview with former BBC Director General, George Entwistle, John made a lovely tribute to the former DG in his acceptance speech.
The Folded Wing team were particularly happy to see The Listening Project take away a bronze award for "Best Speech Programme", a project that we all particularly admire and love.
It was also fantastic to see Steve Lamacq walk away with his FIRST EVER Sony award. He was presented with a special award for his 20 years of service to radio, an award that is thoroughly deserved!
Robbie Williams performing at the Sony Radio Academy Awards 2013
Following a performance from The Saturdays it was soon time for the second half of the awards featuring the category we were particularly interested in "Music Radio Broadcaster Of The Year". Unfortunately Jamie didn't win an award, but the whole team were delighted to see Cerys Matthews take the Gold. Cerys is an outstanding broadcaster and produces a show that we all love and listen to a lot!
Although a cliché we were incredibly happy just to be nominated in the 3rd year of doing the show with Jamie and we received some brilliant feedback from the judges.....

Jamie has become an accomplished broadcaster as well as a much loved musician. He wears his knowledge and respect lightly to deliver a show of fantastic music with energy and enthusiasm.

Folded Wing's table number, the lucky number 68!
The second half of the awards saw Christian O'Connell win his 10th award in 10 years and Eddie Mair win "Speech Radio Broadcaster Of The Year". Radio 4's The Today Programme picked up "Breakfast Show Of The Year" and after a superb year with the Olympics and Paralympics, BBC Radio 5 Live won "UK Station Of The Year" .
There was also a lovely moment when Metro Radio won "Station Of The Year (1m+)"  as Programme director Chris Pegg spoke of his delight at finally winning an award after years of turning up and leaving empty handed.
It was also fantastic to see so many UK indies represented in the awards and many of them taking awards away too! And to see National Prison Radio in a couple of categorys was a great reward for the work that they do!
All in all it was a lovely night and we had a few drinks afterwards in celebration of our nomination and a wonderful evening, topped off when Jamie Cullum performed to close this years ceremony!
You can listen to some highlights of the awards here...
http://audioboo.fm/boos/1391139-sonys-2013-highlights
Congratulations to everyone that won an award and we hope to see you next year!
FW