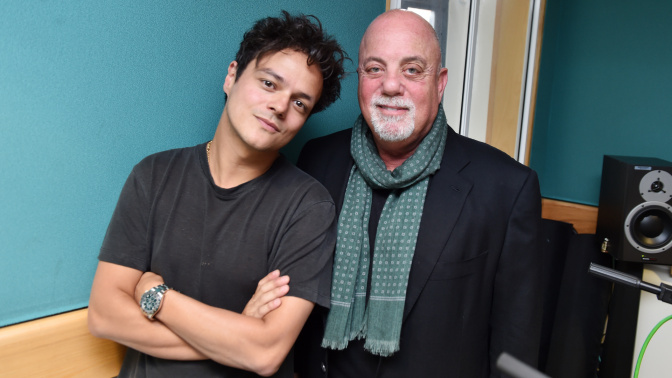 December marks an exciting time for Jamie Cullum's show on Radio 2 as we have a two part special programme with the legendary Billy Joel.
Read more
Billy is one of Jamie's musical heroes. From his early days covering "British Invasion" hits in the clubs around his New York home, to his sell out residencies at Madison Square Garden, Billy has established himself as one of the greats of popular music.
In these two special 60-minute programmes, Jamie talks to him about his career, his songwriting, and the great musicians and singers who have influenced him.
He recalls growing up in a musical household, his mother dragging a reluctant eight-year old Billy to piano lessons and his slowly developing love for classical music.
"Chopin, Beethoven, Debussy...I love all that stuff, that's all I listen to now, I don't listen to pop music any more."
Jamie gets to the heart of Billy's songwriting and composing methods: the observation, the storytelling and the complex musical structures borrowed from his favourite classical composers. We also hear how Billy composed all his hits "backwards", compared to most songwriters.
"I always write the music first. 99.9% of the time, the music comes first. Not the lyrics, I have no idea what I'm going to write about, I have no idea what the words are going to be."
Billy also talks about his deep love for jazz, the influence it has on his own work and his admiration for great jazz piano players like Oscar Peterson and Bill Evans.
This is a rare and exclusive chance to hear two great performers sit down and talk about their shared love of music.
Jamie and The Piano Man: A Billy Joel Special will be airing on BBC Radio 2 on 6th and 13th December.
>> Listen here