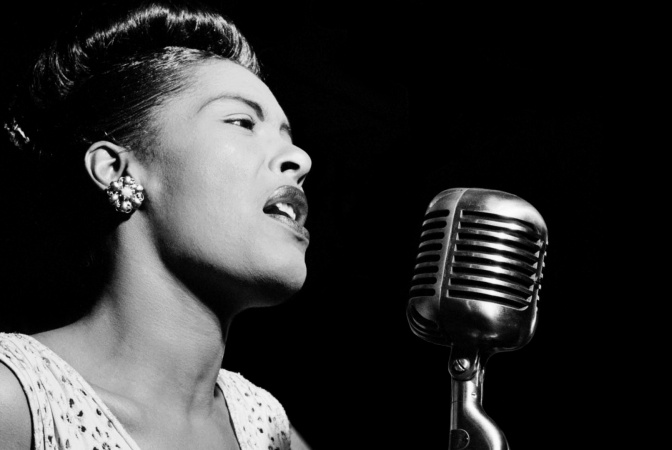 Yesterday Billie Holiday would have turned 100, and to mark her centenary, here's 7 reasons why we think Lady Day was one of the greatest ever jazz artists...
Read more
7. The Fashion

To match her unique vocal style, Billie Holiday's fashion was equally special! From her elaborate hair accessories to her statement jewellery and beautiful frocks, Billie stood out in every possible way whilst gracing the stage.
6. Her Dog, Mister

Billie's beloved boxer dog Mister travelled with her everywhere, even when she performed (which was highly unusual at a time when dogs were often relegated to backyards). Nicely linked to our No 7, the above picture shows Mister getting stuck into one of her shoes.
5. The Artists She's Inspired
Billie Holiday has gone on to inspire a never ending list of artists including Cassandra Wilson and José James who have both released tribute albums to mark her centenary. Another notable artist who was inspired by Billie was the late Amy Winehouse, who shared not only her troubled relationships and iconic style but of course, a voice like no other.
4. Her Ability To Create Moods And Drama

We'll let the above video of 'I Cover The Waterfront (live)' do the talking here...
3. The Beauty And Sadness Of This Photo...
The above photo shows Billie in the studio recording her last ever album, shortly before her death, gin in hand. Billie told arranger Ray Ellis that she wanted to sound like her jazz friend, Frank Sinatra on the album (entitled 'Last Recording').
To hear more about Frank Sinatra & Billie Holiday's unique friendship, check out our latest documentary, 'When Frank Met Billie' for BBC Radio 2 here.
2. Strange Fruit
'Strange Fruit' is rightly considered as one of the greatest recordings in history. It saw Billie use her fame to fearlessly speak out against the terrible racism of the 1930s, much to the dismay of some promoters who tried to prevent her singing the track as they believed it displeased their audiences. Billie retaliated by writing a clause into her contract that she had the inarguable right to sing it every time.
1. Being Like No Other...
A lot of musicians talk about her phrasing and how she uses her voice like an instrument but for us her greatest strength is somehow embodying every single human emotion through her voice. As Alice Russell says in her Billie & Me selection for our Jamie Cullum show on BBC Radio 2, "I hadn't heard anyone - ever - sound like that".
You can view more of our Billie & Me content by searching the hashtag #R2BillieAndMe on Twitter or on Jamie's BBC Radio 2 page