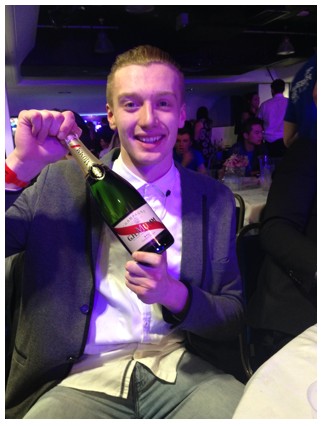 This week The British Council's Phil Catchpole attended the Student Radio Association conference in Newcastle with a very special mission - to announce the winner of the SRA Selector competition! In last week's blog we heard from all the SRA Selector finalists about their experience of making their own version of The Selector over the past six months - you can read it here.
We're delighted to announce that the winner is Jack Saunders from Fly FM at Nottingham Trent University! For his prize, Jack will be off on a trip to Mexico later in the year courtesy of The British Council. We asked Jack to write us a blog post about his experience of making his SRA Selector show and how it feels to win such an amazing prize. Over to Jack...
"I think I've been in a very lucky position where I've actually known what I wanted to do since about the age of 12 years old. I've always wanted to be a radio presenter, but since being at university my love for music has really grown. The Midlands has a wicked music scene; so many different thriving genres which you don't hear in many other places around the UK. It's such a buzz being one of the first to discover a band or artist and sharing it with the world.
What made me apply to present the SRA Selector was the chance to get creative and do something with an established specialist music brand – opportunities don't come around like that every single day! Also the fact that I would get to work with a production company like Folded Wing, who produce Sony Award-winning radio shows. Oh and I'd definitely be lying if I said the trip to Mexico didn't entice me.
On the application form I had to suggest what I might do with the show. I wanted to get creative with the show, create lots of visual content and change the shape of the show, making it more accessible to my audience in the Midlands. Overall I just wanted to promote the brilliant acts that we have here in the Midlands.
The normal Selector is a pre-recorded show that is sent to stations around the world in a package format. I had the challenge of re-vamping it so it worked in a live format. It took me a couple of shows before I found a balance that worked. I had a feature called the Biggest Record In The Midlands: four new tracks released over the last seven days from the Midlands going head to head over the course of the show. The audience vote for their favorite and the winner got played at the end of the show and top of the next.
I produced, recorded and mixed sessions with local artists with the help of my producer George. The middle of the show featured an interview and session package with the artists and then afterwards we would release the session videos online. I think the April Towers session was definitely my favourite! Electronic-pop duo Alex and Charlie are two cracking lads and the music they are producing has massive potential.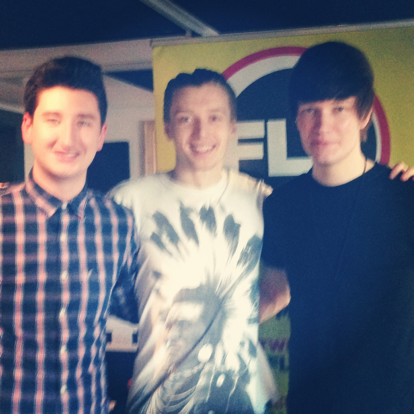 Jack with April Towers
I also did the Selected Remix each week, where I picked a track from the Selector playlist that had been remixed. Finally, I produced a visual supplement to the show called the SeleXtra, a two-minute vlog that reviewed the three best tracks from the show. It meant that people could catch up on the show easily without having to listen to a two-hour podcast. You can check out the SeleXtra here.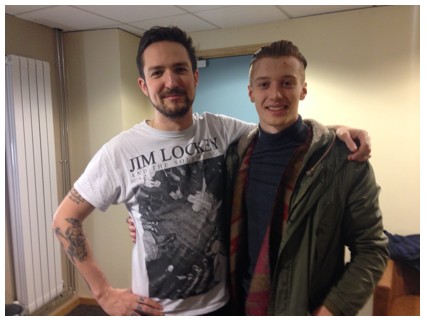 Jack with Frank Turner
I got to interview some great bands and artists as well, which was sick: Drenge, Findlay, Frank Turner, Beans On Toast and Superfood. The Superfood interview was funny as I got presented with my first ever gift at an interview. They tweeted me before the gig "What's your favourite Disney princess?" So I replied "Obviously the Little Mermaid! I dig gingers and mermaids." Turns out they didn't have the Little Mermaid, but they did have a small figurine of Jasmine from Aladdin.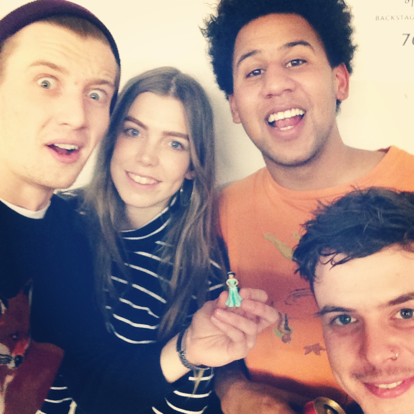 Jack with Superfood (and Jasmine)
I learnt so much from having the opportunity to present the show: how to mix and produce my sessions, improving my interviewing, presenting, the way I talk about music on-air so it's easy for the audience to understand and so much more about how the music industry actually works and communicates with radio to get the music on-air.
It's impossible to know of every single great new band or piece of music out there – but what I did learn was that there is a ridiculous spectrum of genres out there all taking influence from each other to the point where the lines are blurred. Indie taking influence from hip-hop... who would have called that 10 years ago? Music is forever changing and that's the exciting thing for me.
I wanted to win, but I'll be honest I had convinced myself that I hadn't won, there were some wicked entries from the other guys who also did so well! We got to the awards quite early so we could get a seat right at the front. I was actually in the toilet as Phil was halfway through announcing the winner so my mate had to run out and drag me back into the room just as my name was read out. I actually could not believe that I'd won. Apparently I looked like I was about to cry on stage, there was a lot of emotion, but real men don't cry!
Radio and presenting means a lot to me, it's what I've always wanted to do for as long as I can remember so to first have the opportunity and then actually win the competition is a very special thing for me. I cannot wait to get out to Ibero 90.9 and experience Mexico City, hear some great Mexican bands, go to the clubs and take some great British music out there with me to share. Tequila, Sombreros and radio sounds like a good combination to me!"