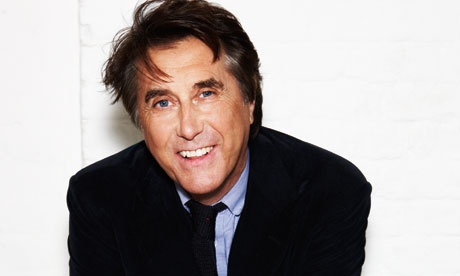 If you haven't heard the news, we're very excited to announce a very special Christmas show with the one and only, Bryan Ferry.
On Christmas Day, the legendary Roxy Music frontman and solo artist, Bryan Ferry, will take listeners on a personal musical journey through the decades, playing the songs that have influenced him and the artists he most admires. It's set to be a lovely relaxing end to the big festive day and we're really excited for you to hear it!
In celebration of the show, we've been picking our favourite Roxy Music/Bryan Ferry songs. Here they are for your listening pleasure...
Pete's Choice: 
Bryan Ferry - 'Slave To Love'
This is one of my favourites, I really like the middle eight, the video to this is amazing too!
http://www.youtube.com/watch?v=9kp3N3wQPO0
Andrea's Choice: 
Bryan Ferry - 'Let's Stick Together'
When I was working in Sweden I once used this track in a radio feature about knitting graffiti. So, whenever I hear it I remember going to interview one of the graffiti artists, who was knitting leg warmers for statues and the like, in a top secret location (a wool shop) in central Stockholm.
http://www.youtube.com/watch?v=Z9EbR0ckb40
Lucy's Choice: 
Roxy Music - 'More Than This'
'More Than This' ticks all the boxes for perfect 80s pop music for me - swirling synths, feisty saxophone solos, an epic key change, wouldn't sound out of place at a key moment in a John Hughes movie. An undeniable classic..
http://www.youtube.com/watch?v=p9PAuWV-Vn0
Ian's Choice 
Roxy Music - 'Prairie Rose'
I was 14 when Virginia Plain came out and it completely blew my mind. I've been a big Roxy Music/Bryan Ferry fan ever since. Choosing a favourite is nearly impossible, but I'm going for a slightly leftfield one. Prairie Rose from the Country Life album. Written in honour of Texan model (and Ferry's girlfriend) Jerry Hall, it's brilliant but a little bit silly. Which is why I love Roxy Music.
http://www.youtube.com/watch?v=O9nCMm5tVn0
Micky's Choice: 
Bryan Ferry - 'I'll See You Again' (The Songs of Noel Coward)
I was sent a promo CD in 1998 that changed the way I thought of Bryan Ferry. Twentieth Century Blues - The Songs Of Noel Coward featured the track 'I'll See You Again' performed by Bryan. It was beautifully recorded with a real vintage charm and his vocal performance was just perfect. If I hadn't seen the track listing I would never have believed that this was the same man I'd grown up watching on Top of the Pops and Live Aid.
http://www.youtube.com/watch?v=79LPK4zcG5o
Matt's Choice: 
Roxy Music - 'Love Is The Drug' (Todd Terje Disco Dub)
My favourite Roxy Music song and one of my favourite producers around... the perfect combo!
http://www.youtube.com/watch?v=Ic4xAuIkoFE
Jim's Choice: 
Bryan Ferry - 'Don't Stop The Dance' 
I remember one of the Disco Bloodbath boys playing this at The Big Chill a few years ago... a very balearic end of the night tune. Still sounds great.
http://www.youtube.com/watch?v=XjhTHQhJLxs




'Bryan Ferry - For Your Pleasure' airs on Christmas Day (25th December 2013), 8-10pm on BBC Radio 2. For details of our other festive programming be sure to check out the following page. 




We wish you a very Merry Christmas & Happy New Year from the FW Team!